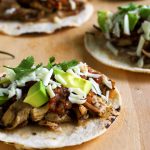 Yield: 4
Prep Time: 20 minutes
Cook Time: 35 minutes
Print
Nutrition facts

(per portion)
Nutrition facts

(per portion)
Calories: 9972 kcal
Carbohydrate Content: 144.89 g
Cholesterol Content: 812 mg
Fat Content: 1019.5 g
Fiber Content: 14.2 g
Protein Content: 107.33 g
Saturated Fat Content: 233.712 g
Serving Size: 4
Sodium Content: 3485 mg
Sugar Content: 37.78 g
Trans Fat Content: 4.968 g
Vietnamese Chicken Tacos
Vietnamese Chicken Tacos, this street food is super delicious with its exotic flavor. This luscious dish is going to blow your mind. So I am sharing mouthwatering Vietnamese chicken tacos because I feel that you guys must taste this delicious dish.
I started this by making tacos then omelet and finally the filling. These tacos are loaded with crispy noodles. All this process to make this delicious taco I've described it in the recipe. So guys let's not waste time go for the recipe and try them out today.
Ingredients of Vietnamese Chicken Tacos Recipe
How to Make Vietnamese Chicken Tacos
To Make Tacos
Step 1: Mix all the ingredients and prepare a smooth batter.
Step 2: Heat a large frying pan and cover the pan with a teaspoon of oil.
Step 3: Now, separate the egg yolk and beat it into prepared batter.
Step 4: Whisk the egg white into a soft peak and fold this into the batter.
Step 5: Now, fry this batter in the frying pan in batches to make pancakes.
Step 6: Take out and mould over a rolling pin to form a taco. Set aside to cool.
To Make Omelet
Step 1: In a bowl, place beaten egg along with water.
Step 2: Heat 1 teaspoon of oil in a frying pan, add egg mixture and fry until cook lightly.
Step 3: Tip onto a plate and gently roll up and slice it into strips.
To Make Stuffing
Step 1: Into a pan, add the chicken breasts and the rest of the coconut milk. Top up with the chicken stock and lemongrass. Poach the chicken for about 12-15 minutes.
Step 2: Remove once cooked and set aside to cool down.
Step 3: Take a large pan and sauté the noodles until soft but with a crispy outside.
Step 4: Remove the skin from the chicken and shred the cooked meat.
Step 5: Mix the shredded chicken omelet gently with bean sprouts, garlic chives, chili flakes, rau rum, sawtooth coriander, perilla, and sweet basil.
Step 6: Place the mixture into the Taco and top with the crispy noodles. Sprinkle with chopped peanuts and herbs.
Add to Favourites