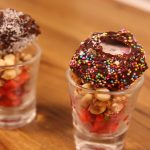 Yield: 2
Prep Time: 20 minutes
Cook Time: 10 minutes
Print
Nutrition facts

(per portion)
Nutrition facts

(per portion)
Calories: 2537 kcal
Carbohydrate Content: 348.93 g
Cholesterol Content: 99 mg
Fat Content: 112.05 g
Fiber Content: 19.7 g
Protein Content: 52.61 g
Saturated Fat Content: 52.195 g
Serving Size: 1
Sodium Content: 3539 mg
Sugar Content: 241.52 g
Trans Fat Content: 0 g
Strawberry and Chocolate Golgappa
Who doesn't love to eat Golgappas!! Well, Golgappa is a yummiest Indian snack that we Indians love to have it anytime, anywhere. You can easily find it on the streets of India. Also, it's easy & quick to make and enjoy it.
Today, at Rasoimenu, I am sharing one of the innovative ways to make Golgappa, it's a Strawberry and Chocolate Golgappa Recipe. Sound interesting? Well, this is a very creative recipe by one of my favorite Chef, Saransh Goila, who is also known as Sadak chef. This recipe is entirely different than the regular Golgappas, rather than having a spicy taste it's sweet and crunchy. So, you can call it a desserts recipe!!
To make Strawberry and Chocolate Golgappas, you need golgappa puris, strawberry, cream, vanilla ice cream, sprinkles, peanuts, and white chocolate. It's not too difficult as its sound!! Let's see how to make it.
Ingredients of Strawberry and Chocolate Golgappa Recipe
How to Make Strawberry and Chocolate Golgappa
Step 1: In a bowl, melt the white chocolate and keep it aside.
Step 2: Take a baking tray and spread butter paper on it.
Step 3: First, take some golgappa puris and make holes from the top of them with your finger.
Step 4: Stick them on a toothpick and fully cover it with melted white chocolate.
Step 5: Now, place the golgappas on the baking tray and add the sprinkles over the golgappa and cover it.
Step 6: Keep the baking tray into the refrigerator for 15 minutes.
Step 7: To make the caramelize peanuts, in a nonstick pan add peanuts, 1 cup sugar and 2 teaspoons water and salt and cook it for 2-4 minutes. Keep it aside to cool.
Step 8: Now, to make the golgappa pani, in a grinder, add vanilla ice cream, half cup of milk, two drops of vanilla essence, vanilla beans and blend them well.
Step 9: Now, bring out the baking tray from the refrigerator.
Step 10: Cut the strawberry into small pieces.
Step 11: Mix the caramelized peanuts with strawberry, fill this mixture into golgappa and serve it with the vanilla pani.
Step 12: Enjoy this delicious golgappa dessert!!
You can also watch this video of Saransh Goila making a strawberry and chocolate golgappa.
Add to Favourites