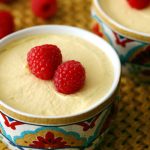 Yield: 4
Prep Time: 10 minutes
Cook Time: 5 minutes
Print
Nutrition facts

(per portion)
Nutrition facts

(per portion)
Calories: 1357 kcal
Carbohydrate Content: 143.62 g
Cholesterol Content: 130 mg
Fat Content: 82.73 g
Fiber Content: 2.5 g
Protein Content: 16.42 g
Saturated Fat Content: 50.221 g
Serving Size: 4
Sodium Content: 200 mg
Sugar Content: 134.26 g
Trans Fat Content: 0 g
White Chocolate Mousse
White Chocolate Mousse with Strawberry Sauce is an elegant summer dessert, refreshing and most of all flavorful. In this dessert, a soft white chocolate mousse layer is followed by a fruity sauce layer and topped with whipped cream and strawberries which also bring a bit of texture and flavor. This dessert is just delicious and perfect sweet end to a family gathering. When you see how easy it is, you will make it for all sorts of occasions! Let's check out the recipe.
Ingredients of White Chocolate Mousse Recipe
How to Make White Chocolate Mousse
For The Strawberry Sauce
Step 1: In a broad non-stick pan, combine the strawberries, cornflour-water mixture and sugar. Mix well and cook it over MEDIUM heat for about 2-3 minutes. Stir continuously.
Step 2: Then add lemon juice. Mix well and remove from the heat them set aside and let it cool.
For The White Chocolate Mousse
Step 1: In a microwave safe bowl, combine the white chocolate and milk and microwave them on high for 2 minutes.
Step 2: After 2 minutes remove the bowl from the microwave and mix them well. Make sure there are no lumps remain and strain them with the strainer.
Step 3: Now, add beaten whipped cream and mix gently.
Step 4: Then add vanilla essence and sugar and again mix gently.
How To Serve
Step 1: In 4 individual glasses, pour equal quantities of chocolate mousse and level it using a flat spoon.
Step 2: In each glasses, pour two tablespoons of strawberry sauce over chocolate mousse.
Step 3: Then put a dollop of beaten whipped cream and strawberry halves in the centre of each glass.
Step 4: Refrigerate for about 2 hours.
Step 5: When mousse is set to serve it chilled.
Add to Favourites