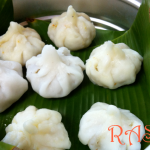 Yield: 5
Prep Time: 20 minutes
Cook Time: 60 minutes
Print
Nutrition facts

(per portion)
Nutrition facts

(per portion)
Calories: 1630 kcal
Carbohydrate Content: 351.16 g
Cholesterol Content: 43 mg
Fat Content: 18.84 g
Fiber Content: 9.6 g
Protein Content: 17.04 g
Saturated Fat Content: 11.038 g
Serving Size: 1
Sodium Content: 1820 mg
Sugar Content: 214.51 g
Trans Fat Content: 0.465 g
Ukadiche Modak
Ukadiche Modak or steamed modak is an authentic Maharashtrian recipe. It is made on the first day of the Ganesh Chaturthi as a Prasad of Lord Ganesh. Modak is Lord Ganesha's favorite food. Ganesh Puja is incomplete without modak. You can make different types of modak like Mawa Modak, Fried Modak, Kesari Modak, Moong Dal Modak. Ukadiche Modak is made with the rice or wheat flour and the sweet filling of grated coconut and jaggery. Ukadiche modak is very easy and quick to make. Let's learn how to make soft steamed or Ukadiche modak at home in just a few easy steps.
Ingredients of Ukadiche Modak Recipe
How to Make Ukadiche Modak
For Stuffing:
Step 1: In a Frying pan, add grated coconut and jaggery together and mix it well.
Step 2: Put the frying pan on LOW flame and heat the mixture till the jaggery completely dissolves. Keep stirring continuously.
Step 3: Then add cardamom powder to the mixture and stir it well.
Step 4: Remove it from the heat and keep it aside to cool.
For Outer Covering:
Step 1: Take a bowl and add rice flour, salt, and required hot water and knead it. Knead the dough till it becomes soft. Mix the dough properly. Ensure that the dough is not sticky or also not too dry.
Step 2: Cover the dough and keep it aside for 20-30 minutes.
Step 3: Once the dough is ready divide it into small parts and make small balls from it.
To Prepare Modak:
Step 1: Take one dough ball and make a circle in the middle of the dough with the help of your thumb that it assumes a cup shape.
Step 2: Now, add one spoon of stuffing in the center of the circled dough.
Step 3: Make about 5-6 pinches around the dough edges and bring them all together and join them from the peak. Its shape will look like whole garlic.
Step 4: Repeat this procedure for remaining dough.
For Steaming:
Step 1: Apply some ghee to modak and keep it aside.
Step 2: Nice grease the modak mould with ghee.
Step 3: Now, place the shaped modak on the modak mould.
Step 4: Place the modak mould into a steamer or pressure cooker and steam them for 10 to 15 minutes.
Step 5: After steaming remove the modak from the modak mould and let them cool.
Step 6: Apply some ghee on the top of modak, and Ukadiche Modak is ready to serve.
Add to Favourites