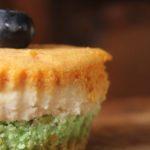 Yield: 3
Prep Time: 25 minutes
Print
Tricolor Cheesecake
Everybody loves cheesecake so much. One of the most delicious cheesecake is here a "Tricolor cheesecake." This cheesecake is an excellent combination of tri-flavor. With tri-flavor, it has three colours too. The bottom layer of this cake flavoured with kiwi crush, centre layer is white, and the third layer accented with orange crush. It just looks like the Indian flag. This triple flavoured cheesecake is heavenly yummy. Try it at home and share it with everyone.
Ingredients of Tricolor Cheesecake Recipe
How to Make Tricolor Cheesecake
Step 1: Place powdered biscuit in a bowl and add melted butter to it and mix it well till slightly moist.
Step 2: In a bowl, put gelatin and add boiling water to it and dissolve the gelatin. Stir to chill.
Step 3: In an electric mixture, beat sugar and cream cheese together until light and smooth.
Step 4: Now, whip the cream until stiff and add gelatin to it.
Step 5: Then divide cream cheese and sugar mixture into three bowls.
Step 6: Add orange crush to one part of cream cheese mixture and add kiwi crush to the second part of cream cheese mixture and mix well.
Step 7: Keep the third part of the cream cheese mixture plain for white colour.
Step 8: Take a round baking dish and put the biscuit mixture first then sprinkle coloured coconut flakes then put coloured cream cheese mixture one by one and keep it in a refrigerator for about 20-25 minutes to set the cake.
Step 9: Now, prepare mixed fruit sauce of black grape and plum adding sugar to it and use it as the base for this dish when the cake is ready to serve.
Add to Favourites