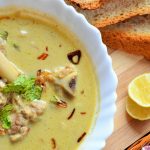 Yield: 2
Prep Time: 20 minutes
Cook Time: 45 minutes
Print
Nutrition facts

(per portion)
Nutrition facts

(per portion)
Calories: 947 kcal
Carbohydrate Content: 119.4 g
Cholesterol Content: 6 mg
Fat Content: 25.58 g
Fiber Content: 43.8 g
Protein Content: 75.62 g
Saturated Fat Content: 4.54 g
Serving Size: 1
Sodium Content: 2435 mg
Sugar Content: 24.82 g
Trans Fat Content: 0.072 g
Traditional Mutton Soup
Easy, healthy and delicious mutton soup, cooked authentically for this chilled winter days. In India, mutton is widely available and eaten by the people. Mutton is full of energy and gives you warmness. It keeps you warm during the cold days. Here I am sharing a traditional mutton soup recipe, which is specially made in North India. Mutton soup is a very light soup that is very refreshing as the starter in your meal. To make the mutton soup, you required mutton or lamb pieces that are cooked with lots of Indian spices till tender. Let's make this healthy, yummy mutton soup together.
Ingredients of Traditional Mutton Soup Recipe
How to Make Traditional Mutton Soup
Step 1: Wash the mutton bones properly. Then chop the mutton bones into 2inch pieces and boil it.
Step 2: Then add garlic, ginger, onions and coriander seeds into the pan and cook it for few minutes.
Step 3: Now, add water to the mixture and cook till the meat is tender (the forth should be skimmed off).
Step 4: Strain stock and keep aside.
Step 5: Remove the meat and shred the flesh into small pieces and keep it aside.
Step 6: In another pan, heat the oil over MEDIUM heat and fry cardamoms, cloves, cinnamon and ginger for 2-3 minutes and then add curry powder and dry for 2 minutes.
Step 7: Now, pour in coconut milk, poppy seeds and bring the mixture to boil and cook for 5-6 minutes.
Step 8: Serve soup in individual bowls garnished with fried onions, spring onions, and coriander leaves.
Additional Tips
Coconut milk can be exempted if it is not liked. Use the water in which the meat is cooked.
Add to Favourites