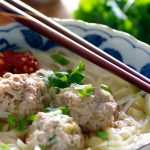 Yield: 4
Prep Time: 40 minutes
Cook Time: 40 minutes
Print
Nutrition facts

(per portion)
Nutrition facts

(per portion)
Calories: 8152 kcal
Carbohydrate Content: 707.57 g
Cholesterol Content: 525 mg
Fat Content: 534.01 g
Fiber Content: 103.3 g
Protein Content: 255.17 g
Saturated Fat Content: 90.476 g
Serving Size: 1
Sodium Content: 10008 mg
Sugar Content: 65.31 g
Trans Fat Content: 4.803 g
Thai Meatballs with Noodles
Thai Meatballs with Noodles is absolutely packed with the Thai flavors. This is a yummy recipe which I had learned from my best friend a year ago.
This takes a bit of preparation and cooking as well, but is worth it! This is served as a main meal with stir-fried noodles. I know it takes a lot more time but trusts me when it's done you will forget everything and will enjoy this delicacy. So let's just not waste time and get started with the recipe.
Ingredients of Thai Meatballs with Noodles Recipe
How to Make Thai Meatballs with Noodles
Step 1: First preheat the oven to 180° C.
Step 2: In a large bowl, combine the minced beef, egg white, groundnuts, curry paste, fish sauce, and corn flour. Mix all well with using hand and set aside.
Step 3: In another bowl, combine all of the red onion, ginger, galangal, garlic, chopped chili, lemongrass, Kaffir lime leaf, and spring onions and mix all well. Then add this mixture to the beef mixture and combine well again with your hands.
Step 4: Now, roll small sized balls.
Step 5: Heat a good amount of oil in a large and oven proof pan. Place the meatballs to it and sauté until golden brown, finish this off in the oven for about 20-25 minutes turning meatballs over halfway through cooking time.
To Make Thai Mushroom Noodle Salad
Step 1: First start with the dressing, mix all ingredients for dressing in a bowl and set aside.
Step 2: In a large wok heat a good amount of oil over MEDIUM flame, once hot, add red onion and sauté it for about 3-4 minutes or until turns golden brown. Stir it occasionally.
Step 3: Add garlic, ginger, and chilies then sauté it for a couple of minutes to soften the garlic combining well with the onions.
Step 4: Once the onions and garlic are softened, add the sliced pepper, broccoli, and mange tout and mix quickly before adding the noodles and chicken stock. Cook all until the noodles are hot all the way through and toss them well with using chopstick but do not over-stir them as they will break.
Step 5: Just before serving, drizzle over the prepared dressing mixture and serve with spring onions and crispy shallots.
Step 6: Savor them with meatballs.
Add to Favourites