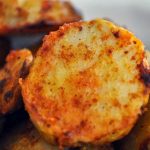 Yield: 8
Prep Time: 15 minutes
Cook Time: 60 minutes
Print
Nutrition facts

(per portion)
Nutrition facts

(per portion)
Calories: 431 kcal
Carbohydrate Content: 66.86 g
Cholesterol Content: 39 mg
Fat Content: 12.31 g
Fiber Content: 8.4 g
Protein Content: 19.11 g
Saturated Fat Content: 6.586 g
Serving Size: 1
Sodium Content: 4823 mg
Sugar Content: 36.42 g
Trans Fat Content: 0.052 g
Tandoori Arbi
Arbi or Colocasia is a popular root vegetable. There are various recipes which you can make with Arbi like dry arbi masala. But here I am sharing a different recipe of Arbi, which you like the most and found it yummy. Arbi is boiled and cooked with curd and various Indian spices which give the rich taste to this dish. Try this delicious recipe today.
Ingredients of Tandoori Arbi Recipe
How to Make Tandoori Arbi
Step 1: Pressure cook arbi with 3 cups water to give one whistle. Keep on LOW flame for 3 minutes.
Step 2: Remove from fire. Peel boiled arbi. Cut into two pieces lengthwise.
Step 3: Hung curd in a muslin cloth for half an hour.
Step 4: Mix all ingredients of the marinade to the curd.
Step 5: Grease generously, a wire rack or a baking tray. Dip arbi pieces in the prepared marinade and arrange on the plate.
Step 6: Keep it in a hot oven at 200°C for 25 minutes or till the curd dries up and forms a coating.
Step 7: Heat a Kadai on fire. Add carom seeds and dry roast ajwain for 2-3 minutes.
Step 8: Add ¼ cup milk. Add onion rings. Cook till it dries.
Step 9: Add one tablespoon curd, tandoori masala, and 1/2 teaspoon salt.
Step 10: Add the shredded ginger. Mix it well. Keep aside until serving time.
Step 11: At serving time, add the arbi and green chilies.
Step 12: Sprinkle some lemon juice and mix well. Serve hot.
Add to Favourites