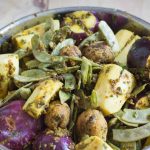 Yield: 5
Prep Time: 20 minutes
Cook Time: 60 minutes
Print
Nutrition facts

(per portion)
Nutrition facts

(per portion)
Calories: 8897 kcal
Carbohydrate Content: 457.77 g
Cholesterol Content: 0 mg
Fat Content: 784.84 g
Fiber Content: 80.7 g
Protein Content: 81.81 g
Saturated Fat Content: 87.747 g
Serving Size: 1
Sodium Content: 5008 mg
Sugar Content: 78.77 g
Trans Fat Content: 177.273 g
Surti Undhiyu
Undhiyu is a famous Gujarati recipe made during winter and especially on Uttarayan. Undhiyu is a mixture of a different winter special vegetables like green beans (papdi), sweet potatoes, banana, yam, brinjal, methi and more. Undhiyu is made in whole Gujarati with different variations, but the surti style to make Undhiyu is different and gives it a more rich taste which is famous all over Gujarat and other states. Various spices and herbs are used to make Undhiyu and cook over LOW heat. Here is the complete recipe to make Surti Undhiyu.
Ingredients of Surti Undhiyu Recipe
How to Make Surti Undhiyu
To Make Methi Muthiya
Step 1: Combine all the ingredients of muthiya in a bowl and mix them well.
Step 2: Make a stiff dough with the help of water and then make small balls or oval shape muthiya from the dough. Deep fry the muthiya into oil for 2-3 minutes and keep aside them.
To Make Undhiyu Masala
Step 1: Collect all the ingredients of Undhiyu masala and blend them well and make a rough paste then keep aside.
To Make Surti Undhiyu
Step 1: Peel the yam, sweet potatoes and potatoes and cut them into big pieces.
Step 2: Now, rub the chunky vegetables with oil and green masala paste and marinate for 20-25 minutes.
Step 3: Then add five tablespoon oil into a deep frying pan and add surti papdi and green peas to them and mix them well.
Step 4: Then add remaining green masala, salt and lemon juice to it and cook it for 4-5 minutes.
Step 5: Now, add marinated vegetables to the mixture and add turmeric powder, ajwain and mix them well cover the pan and cook the vegetables over a LOW flame.
Step 6: Then add fried muthiya and 1 cup of water to the vegetables. Let the mixture boil and simmer till the vegetables cooked. Cook it for 20-25 minutes.
Step 7: Surti Undhiyu is ready to serve. Enjoy this delicious Undhiyu with Phulka roti.
Add to Favourites