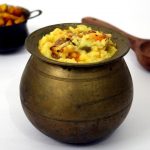 Yield: 5
Prep Time: 15 minutes
Cook Time: 25 minutes
Print
Nutrition facts

(per portion)
Nutrition facts

(per portion)
Calories: 3233 kcal
Carbohydrate Content: 394.7 g
Cholesterol Content: 31 mg
Fat Content: 157.04 g
Fiber Content: 60.2 g
Protein Content: 92.38 g
Saturated Fat Content: 31.404 g
Serving Size: 5
Sodium Content: 4072 mg
Sugar Content: 35.3 g
Trans Fat Content: 0.683 g
Suran Khichdi
Khichdi is the very famous cuisine of Gujarat, and it is very light and healthy food. One of the healthy and light forms of khichdi today we are going to learn. Suran khichdi is a rustic woody flavored khichdi recipe. It is easier to prepare, and it's made from shredded yam and delicate flavor filled with the spice make this dish very flavorful and delicious. As a farali dish, this khichdi dish can be eaten on fasting days too. Try this recipe and relish the flavors of it.
Ingredients of Suran Khichdi Recipe
How to Make Suran Khichdi
Step 1: Peel off the yam and grate it then immediately transfer it to the water before they get discolored. Drain them.
Step 2: Heat a pan and dry roast peanuts till golden brown. Remove from the heat and allow it to cool. Once it cooled, remove skin and grind it to a coarse powder.
Step 3: In a thick-bottom pan, heat the oil and add cinnamon and cloves then sauté it for a minute.
Step 4: Add ginger-chili paste and sauté it for a while then add grated yam and rock salt. Mix well.
Step 5: Lower the heat and cover the pan with a plate then pour a little water to the plate and let the yam cook with the steam of water. It will take about 10-15 minutes. Stir twice or thrice in between. Sprinkle some water if needed.
Step 6: When yam is well cooked add cinnamon-cloves powder, sesame seeds, ghee, and sugar. Mix well.
Step 7: Turn off the heat and add lime juice and chopped fresh coriander leaves. Mix it again.
Step 8: Serve hot with farali paratha, or it can be eaten alone as faral.
Add to Favourites