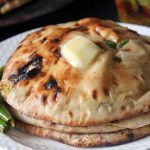 Yield: 4
Prep Time: 4h 20 min
Cook Time: 45 minutes
Print
Nutrition facts

(per portion)
Nutrition facts

(per portion)
Calories: 1554 kcal
Carbohydrate Content: 331.38 g
Cholesterol Content: 8 mg
Fat Content: 5.23 g
Fiber Content: 24.7 g
Protein Content: 44.1 g
Saturated Fat Content: 1.898 g
Serving Size: 4
Sodium Content: 2407 mg
Sugar Content: 13.24 g
Trans Fat Content: 0 g
Stuffed Aloo Kulcha
Kulcha is a typical North Indian recipe, in which Amritsari kulcha recipe is very famous among them. Kulcha is a type of flatbread that is usually eaten with chole. One of them most famous kulcha recipe is here – Stuffed Aloo Kulcha. This kulcha is made from maida flour dough and stuffed with spiced potato mixture then rolled into flat, round shape then baked into earthen clay oven or in a simple oven when cooked thoroughly, it's garnished with butter. This fabulous recipe is very delicious. If there is no kulcha oven, then don't worry you can bake it in a regular oven too. Enjoy!
Ingredients of Stuffed Aloo Kulcha Recipe
How to Make Stuffed Aloo Kulcha
To Make Dough
Step 1: Take a bowl, and Sieve the refined flour along with baking powder, soda bi-carb and salt then gradually mix in lemon juice and yogurt. Knead soft and smooth dough by adding enough water. Cover with damp cloth and rest dough for about 4-5 hours.
To Make Stuffing
Step 1: Place potatoes in a bowl and mash them. Then add chopped onion, red chilli powder, coriander-cumin powder, lemon juice, green chillies, ginger paste, chopped coriander leave, and salt. Mix them well and prepare the mixture.
To Make Kulcha
Step 1: After 4-5 hours take the dough and divide into 6-7 equal sized balls.
Step 2: Now, roll each dough ball and place a portion of potato stuffing in the centre and cover the dough over and again form a ball. Pat each ball into round kulcha.
Step 3: In a pan, heat two teaspoons of oil and the lightly roast the kulcha from both side and then place this kulcha on a baking tray and bake in preheated oven until golden brown and crisp.
Step 4: Serve hot with curd, pickle or chutney.
Add to Favourites