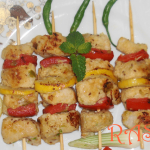 Yield: 2
Prep Time: 20 minutes
Cook Time: 4h 00 min
Print
Nutrition facts

(per portion)
Nutrition facts

(per portion)
Calories: 313 kcal
Carbohydrate Content: 22.12 g
Cholesterol Content: 58 mg
Fat Content: 16.72 g
Fiber Content: 2.8 g
Protein Content: 19.17 g
Saturated Fat Content: 2.939 g
Serving Size: 1
Sodium Content: 14004 mg
Sugar Content: 6.29 g
Trans Fat Content: 0.072 g
Fish Tikka
Fish Tikka is a delicious North Indian recipe. To make a tikka is an experimenting and enjoyable thing in cooking. Fish tikka is a very famous dish in India and Pakistan. It is a different way to eat a fish, basically its BBQ or Grilled in an Indian style.
Fish Tikka is made using fish fillets, lemon juice, ginger, and spices and then simmered in open tandoor. At home, you can also cook this fish tikka recipe in oven or grill. Serve this delicious starter with mint chutney. Here is the delightful Tandoori Fish Tikka recipe. Enjoy It!
Ingredients of Fish Tikka Recipe
How to Make Fish Tikka
Step 1: Properly wash and wipe the fish pieces.
Step 2: Now, coat the fish pieces with flour, chili powder, and salt
Step 3: Prick the fish pieces with a fork. Combine all the other ingredients.
Step 4: Coat the fish pieces with this masala. Keep aside for 2 to 3 hours.
Step 5: Grill fish pieces for 5 to 10 minutes on both the sides or roast in a tandoor.
Step 6: Now place the roasted fish pieces and put some onion rings on them and serve hot.
Add to Favourites