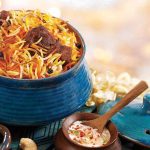 Yield: 4
Prep Time: 3h 00 min
Cook Time: 30 minutes
Print
Nutrition facts

(per portion)
Nutrition facts

(per portion)
Calories: 2748 kcal
Carbohydrate Content: 57.38 g
Cholesterol Content: 1073 mg
Fat Content: 129.25 g
Fiber Content: 17.7 g
Protein Content: 337.7 g
Saturated Fat Content: 48.573 g
Serving Size: 4
Sodium Content: 3388 mg
Sugar Content: 15.34 g
Trans Fat Content: 0.672 g
Hyderabadi Mutton Biryani
Hyderabadi food is trendy not only in India but all over the world, and its biryani recipe is very delicious and mouthwatering. Mutton Biryani is one of the famous and tempting Hyderabadi cuisine and delightful recipe. It is king of all the biryanis.
Hyderabadi Mutton Biryani, also know as Kachhe gosht ki biryani, is prepared by cooking marinated mutton then rice is added to it and cooked it on Dum (Slow Cooking) until done. Hyderabadi Mutton Biryani is colorful and full of fragrant with spices. It is best to serve as the main course in lunch or dinner. Here is the complete recipe to make this delicious and biryani in an authentic Hyderabadi style.
Ingredients of Hyderabadi Mutton Biryani Recipe
How to Make Hyderabadi Mutton Biryani
To Marinate Mutton
Step 1: In a medium bowl, combine curd, ginger-garlic paste, ½ teaspoon of red chili powder and salt and make a paste.
Step 2: Marinate the mutton with this paste and allow it to marinate for at least 3 hours.
To Make Biryani
Step 1: Wash the basmati under running water and soak in cold water for 30 minutes.
Step 2: Meanwhile, pressure cook the marinated mutton for 7-8 whistles or until soft and tender. Switch off the flame and keep it aside.
Step 3: In a wide heavy bottom pan, heat oil and add bay leaf, fennel seeds, cardamom, cinnamon, cloves, mace, and star anise and sauté it to sizzle for 10-12 seconds or until it releases the aroma.
Step 4: Now, add onions and sauté it for about 3-4 minutes till it turns golden brown.
Step 5: Then, add chopped green chilies and some salt to it and then cover it and cook it for about 2-3 minutes.
Step 6: After that add remaining red chili powder, coriander powder, biryani masala, cumin powder, and garam masala. Mix well.
Step 7: Add half of the mint and coriander leaves and beaten curd to it then cover the pan with a lid and cook it a minute.
Step 8: Now, add the cooked mutton and its juice to it. Mix it well then add 4 cups of water to it and bring this to boil.
Step 9: Drain the soaking rice and once the water is boiling add rice then mix it again and check for salt and spices.
Step 10: Now, Sprinkle the remaining mint and coriander leaves and mix well.
Step 11: Cover the pan with the lid and cook over MEDIUM heat for 4-5 minutes.
Step 12: After 4-5 minutes lower the flame and place dosa skillet and keep the biryani pan over it.
Step 13: Cook it again for about 7-8 minutes and then switch off the flame and let it cool for 10 minutes.
Step 14: Then open the pan and lastly add lemon juice to it and mix well and serve hot.
Add to Favourites