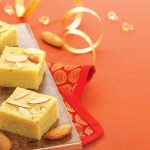 Yield: 3
Prep Time: 10 minutes
Cook Time: 20 minutes
Print
Nutrition facts

(per portion)
Nutrition facts

(per portion)
Calories: 2245
Carbohydrate Content: 233.3g
Cholesterol Content: 351mg
Fat Content: 141.g
Protein Content: 23.1g
Saturated Fat Content: 85.3g
Serving Size: 3
Sodium Content: 53mg
Sugar Content: 140.7g
Soan Papadi
Soan Papdi is a delicious and crispy Indian dessert recipe. This yummy Diwali dessert is made with besan, ghee, flour, and sugar. Cardamom powder gives rich taste to the soan papdi. With the below-suggested recipe instructions making soan papdi at home becomes more comfortable and you can prepare it quickly. Here is the recipe to make the soan papdi.
Ingredients of Soan Papadi Recipe
How to Make Soan Papadi
Step 1: In a bowl, sift besan and maida together.
Step 2: In a heavy-bottomed frying pan, heat the ghee. Then add flour mixture and roast it on a LOW flame till it turns golden brown. Keep stirring. Once it's ready to keep it aside to cool.
Step 3: Now to prepare a syrup, add milk, sugar into the pan and boil it on MEDIUM heat. Boil it until the syrup becomes thick then remove it from the flame and set aside to cool.
Step 4: Now, pour this syrup into the flour mixture and beat well with a large fork till the mixture forms threadlike flakes.
Step 5: Then pour this mixture onto a greased plate and roll to 1″ thickness lightly.
Step 6: Now, sprinkle the cardamom powder to the mixture and let it cool.
Step 7: Once it's completely cool, cut into small square pieces.
Step 8: Garnish it with the chopped pistachios and wrap each piece with the thin plastic sheet. Store the soan papdi in the airtight container.
Add to Favourites