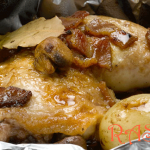 Yield: 4
Prep Time: 20 minutes
Cook Time: 60 minutes
Print
Nutrition facts

(per portion)
Nutrition facts

(per portion)
Calories: 2392 kcal
Carbohydrate Content: 33.7 g
Cholesterol Content: 663 mg
Fat Content: 171.07 g
Fiber Content: 6.4 g
Protein Content: 166.3 g
Saturated Fat Content: 46.802 g
Serving Size: 1
Sodium Content: 3335 mg
Sugar Content: 4.81 g
Trans Fat Content: 1.922 g
Seasoned Chicken Parcels
Seasoned Chicken Parcels is a delicious chicken recipe. It is perfect for lunch or dinner parties. Deliciously flavored chicken with butter, egg yolk, pine nuts, and garlic. Enjoy this Seasoned chicken parcels with rice. Learn how to make Seasoned chicken parcels at home.
Ingredients of Seasoned Chicken Parcels Recipe
How to Make Seasoned Chicken Parcels
Step 1: Mallet chicken breasts until flat.
Step 2: Now, mix all other ingredients in a small bowl.
Step 3: Place this mixture in the center of the chicken breasts.
Step 4: Roll and tie chicken with string so as no filling is exposed.
Step 5: Place in casserole dish and brush with butter.
Step 6: Cook for 15 minutes on MEDIUM-HIGH flame. Turn over halfway during cooking.
Step 7: Stand for 5 to 6 minutes. Covered it in foil.
Add to Favourites