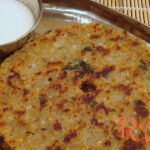 Yield: 3
Prep Time: 4h 10 min
Cook Time: 30 minutes
Print
Nutrition facts

(per portion)
Nutrition facts

(per portion)
Calories: 899 kcal
Carbohydrate Content: 146.89 g
Cholesterol Content: 0 mg
Fat Content: 26.86 g
Fiber Content: 18.9 g
Protein Content: 25.37 g
Saturated Fat Content: 4.422 g
Serving Size: 1
Sodium Content: 2570 mg
Sugar Content: 11.55 g
Trans Fat Content: 0.072 g
Sabudana Thalipeeth
Sabudana Thalipeeth or Sago roti is a traditional Maharashtrian style Pancake recipe for the fasting. During the fasts, Sabudana is specially used to have as food. During fasts, people prefer to take sago in their food, and this recipe of sabudana is perfect for Navratri fasting. To make sabudana Thalipeeth is easy and it's light food. To make this dish, you required sago, mashed potatoes, peanuts, and green chilies. Serve the hot thalipeeth with coriander chutney or curd. From sago (sabudana) you can also make sabudana vada, sabudana kheer, sabudana pakora, sabunada khichdi and many more. Here is the step by step Sabudana Thalipeeth recipe for you. Enjoy!
Ingredients of Sabudana Thalipeeth Recipe
How to Make Sabudana Thalipeeth
Step 1: Wash sabudana (sago) in running water. In a bowl add sabudana and required water to cover the sabudana and keep aside to soak for 3-4 hours. You can also put sabudana to soak for overnight.
Step 2: Once the sabudana soaked properly, drain extra water from it. Keep it aside.
Step 3: In a bowl, add mashed potatoes, soaked sabudana, peanuts, green chili, lemon juice, rock salt, coriander leaves, and oil and mix and knead well.
Step 4: Now, make small balls from the dough. Apply some oil on your palms and put the dough ball in between your palm and press it and give a round shape to the dough.
Step 5: Now, grease the tawa (griddle) at MEDIUM flame, add one tablespoon oil on it and place Thalipeeth on tawa.
Step 6: Roast it till it turns in golden brown color from both sides.
Step 7: Remove from the tawa and serve hot with curd. You can eat sabudana thalipeeth with jeera aloo to make a complete food.
Add to Favourites