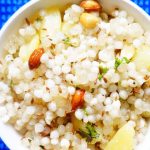 Yield: 3
Prep Time: 5 minutes
Cook Time: 25 minutes
Print
Nutrition facts

(per portion)
Nutrition facts

(per portion)
Calories: 4630 kcal
Carbohydrate Content: 47.98 g
Cholesterol Content: 0 mg
Fat Content: 494.52 g
Fiber Content: 5.9 g
Protein Content: 26.5 g
Saturated Fat Content: 55.062 g
Serving Size: 1
Sodium Content: 2923 mg
Sugar Content: 15.05 g
Trans Fat Content: 117.794 g
Sabudana Chivda
Sabudana chivada is a farali snack recipe. It is simply good to try anytime you want some healthy snacks. It has a crunchy and crispy texture. To make this chivda, you will need nylon sago pearls, peanuts, some dry fruits and for the seasoning some spices and salt. It is a quick recipe and doesn't require many efforts. You can store this chivda in an airtight jar and have whenever you want. Try this exciting snack option on fasting days.
Ingredients of Sabudana Chivda Recipe
How to Make Sabudana Chivda
Step 1: In a deep wok, heat oil for deep frying in which pearls can get immersed completely.
Step 2: Take 2-3 tablespoons of nylon sabudana pearls in a metal frying strainer and place it in hot oil.
Step 3: When the pearls start puffing up, keep on turning them around using the spoon to fry them evenly. To make sure the pearls are fried evenly or not bite few pearls if they are not cooked from the center then continue to fry.
Step 4: Then drain the fried pearls and put them on towel paper.
Step 5: Now, take raw peanuts in a metal frying strainer and fry them till crunchy and change the color.
Step 6: Similarly fry the cashew nuts till golden brown then fry the raisins till puff up. Drain them on towel paper.
Step 7: Once these fried ingredients are cool take them in a bowl and add red chili powder, powdered sugar, and rock salt to it. Mix well.
Step 8: Store this sabudana chivda in an air-tight container at room temperature.
Step 9: Have sabudana chivda plain when required.
Add to Favourites