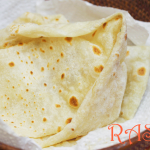 Yield: 3
Cook Time: 20 minutes
Print
Nutrition facts

(per portion)
Nutrition facts

(per portion)
Calories: 2666 kcal
Carbohydrate Content: 501.51 g
Cholesterol Content: 16 mg
Fat Content: 37.31 g
Fiber Content: 16.9 g
Protein Content: 68.81 g
Saturated Fat Content: 7.793 g
Serving Size: 1
Sodium Content: 3123 mg
Sugar Content: 26.14 g
Trans Fat Content: 0.145 g
Roomali Roti
Roomali Roti is a thin, soft flatbread that is popular across India. Roomali Roti is a Punjabi recipe, which is eaten with Punjabi dishes. As compared to normal chapatti or roti, Roomali Roti is made from maida. Roomali Roti is skinny layered chapatti style which is very yummy and tastes best. To make roomali roti traditionally and to make it at home has different methods. To make it at home you need to use tawa or wok and need to put it inverted on the stove so the Rumali roti keeps stretched and can cook faster. Ensure to roll the roti as thinly as possible before cooking it. Learn how to make Roomali Roti at home.
Ingredients of Roomali Roti Recipe
How to Make Roomali Roti
Step 1: Take a bowl and collect all the ingredients of the curd yeast.
Step 2: Mix all these ingredients and leave it in a warm place overnight.
Step 3: To make Roomali Roti, mix the maida with sugar, salt and two tablespoon oil. Knead it well. Then add overnight stored curd yeast and warm milk to it.
Step 4: Again knead it well.
Step 5: Now, keep it aside for 30 minutes.
Step 6: After that roll out the dough and make very thin layered chapatis.
Step 7: Put the Roomali Roti on deep hot tava and cook it till it becomes slightly golden brown.
Add to Favourites