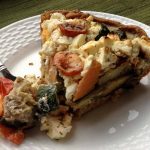 Yield: 4
Prep Time: 25 minutes
Cook Time: 1h 10 min
Print
Nutrition facts

(per portion)
Nutrition facts

(per portion)
Calories: 3026 kcal
Carbohydrate Content: 431.11 g
Cholesterol Content: 432 mg
Fat Content: 111.46 g
Fiber Content: 52.4 g
Protein Content: 100.81 g
Saturated Fat Content: 18.449 g
Serving Size: 1
Sodium Content: 730 mg
Sugar Content: 89.43 g
Trans Fat Content: 0.028 g
Roasted Vegetable Pie
Roast vegetable pie is very healthy and full of nutritious meal recipe for your family. You can choose all your favorite seasonal vegetables to make this pie. The taste of roasted vegetables, cooked with rice and other roasted spices taste simply delightful. I have used brown rice for this recipe; you can also choose basmati rice. Let's learn how to cook a roasted vegetable pie in this easy recipe guide.
Ingredients of Roasted Vegetable Pie Recipe
How to Make Roasted Vegetable Pie
Step 1: Preheat the oven to 180°C.
Step 2: Now, take a large baking tray and baking paper and set red onion, Zucchini, eggplant, red chili, and sweet potatoes in a layer on the tray. Then sprinkle olive oil on the sheet.
Step 3: Place the baking tray in the oven and bake it for 40 minutes. If the vegetables not appropriately roasted, then rearrange them, so they cook properly. Once it's soft and turn slightly brown remove it from the oven and cool.
Step 4: Meanwhile, cook rice in boiling water in a pot for 35 minutes. Strain well.
Step 5: in another frying pan, add spices and cook it on LOW heat for 1 minute. Transfer to a bowl and allow to cool.
Step 6: Now, apply olive oil on a spring pan. Place rice in a large bowl and then add roasted spices, pepper, and salt to it and mix them well. Then add eggs and mix until they are thoroughly combined.
Step 7: Carefully fold through roasted vegetables and tofu and scoop into the prepared tin. Press in with the back of the spoon and cook it for 35 minutes.
Step 8: Now, on a try place the cherry tomatoes covered with baking paper and cook for 25 minutes.
To Make Cilantro Pesto
Step 1: Properly wash and dry the coriander leaves.
Step 2: Add chopped coriander leaves into grinder then add garlic, lemon juice, almonds, one tablespoon olive oil and chili to it and blend it till it becomes roughly chopped.
Step 3: Now, serve warm vegetable pie, garnished with roasted cherry tomatoes and coriander leaves and cilantro pesto on the side.
Add to Favourites