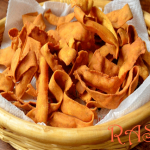 Yield: 2
Prep Time: 20 minutes
Cook Time: 30 minutes
Print
Nutrition facts

(per portion)
Nutrition facts

(per portion)
Calories: 8474 kcal
Carbohydrate Content: 132.47 g
Cholesterol Content: 30 mg
Fat Content: 892.5 g
Fiber Content: 7 g
Protein Content: 12.17 g
Saturated Fat Content: 98.887 g
Serving Size: 1
Sodium Content: 244 mg
Sugar Content: 0.79 g
Trans Fat Content: 235.588 g
Ribbon Pakoda
Ribbon Pakoda or Ribbon Murukku is a famous tea time snack of Tamil Nadu. Ribbon pakoda is easy and anytime snacks which is usually made during Diwali festival. Since the ribbons can resemble a tape, it is also called tape pakoda. The main ingredient to make this recipe is rice flour and gram flour.
Making Ribbon Pakoda at home is bit time-consuming recipe but once its ready, your family will love to have it. In this recipe, instead of adding red chili powder to the dough, you can also add two teaspoon ground green chilies. You will get lighter colored ribbon pakoda. Learn how to make Ribbon Pakoda or Ribbon Murukku.
Ingredients of Ribbon Pakoda Recipe
How to Make Ribbon Pakoda
Step 1: Combine all the ingredients except oil for frying in a large bowl. Mix thoroughly with your fingers till butter is well incorporated, and it resembles breadcrumbs.
Step 2: Gradually add ¾ – 1 cup water to it and knead to make a firm dough.
Step 3: Now, heat oil in a deep frying pan till smoking.
Step 4: Now, Add one tablespoon hot oil to the dough and knead again, insert the ribbon pakoda disc (with two ½ inch slits running along its diameter) in a thenkuzhal press.
Step 5: Fill the container with dough and press dough out in ribbons into the hot oil. With a slotted spoon break ribbons into convenient length to facilitate even cooking.
Step 6: Turn ribbons and fry till the hissing sound ceases, and they become golden and crisp.
Step 7: Now, remove with a slotted spoon and place on kitchen paper to absorb excess oil.
Step 8: Let it cool and store and airtight container. They remain crisp for a couple of weeks.
Add to Favourites