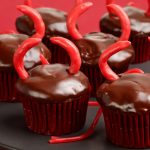 Yield: 4
Prep Time: 30 minutes
Cook Time: 20 minutes
Print
Nutrition facts

(per portion)
Nutrition facts

(per portion)
Calories: 5843 kcal
Carbohydrate Content: 561.17 g
Cholesterol Content: 2187 mg
Fat Content: 362.02 g
Fiber Content: 15.2 g
Protein Content: 99.2 g
Saturated Fat Content: 220.015 g
Serving Size: 4
Sodium Content: 5378 mg
Sugar Content: 234.21 g
Trans Fat Content: 9.272 g
Red Devil Cupcakes
Red devil cupcakes are a beautiful red color, fluffy cupcake. This yummy cake is made from cocoa powder, butter, and buttermilk with vanilla icing on it which gives a delicious taste to it. Make these delightful cupcakes during the Halloween and show people another naught side of yours. These cupcakes have a very decent look which attracts everybody to eat. Let's see how to make this moist red devil cupcakes for the festivals.
Ingredients of Red Devil Cupcakes Recipe
How to Make Red Devil Cupcakes
Step 1: Preheat oven to 180 C. Line twenty 1/3 cup muffin pans with paper cases.
Step 2: In the mixture, beat the butter and sugar until it becomes soft and creamy.
Step 3: Now, add vanilla into the mixture and again beat it to combine, then add eggs, at a time, beating well after each addition.
Step 4: Add flour, cocoa powder, buttermilk and baking powder, vinegar, food coloring and bicarbonate soda and stir to combine. Pour this mixture evenly among the lined pans.
Step 5: Bake it for 20-22 minutes once it's ready to transfer it to a wire rack to cool completely.
To make cream cheese icing:
Step 1: Beat the cream cheese and butter until it becomes smooth.
Step 2: Slowly add icing sugar, in batches.
Step 3: Now, add the food coloring and beat to mix well.
Step 4: Fill the mixture into a piping bag fitted with a 1-1.5 cm fluted nozzle.
Step 5: Pipe the icing on the cakes.
Step 6: with the help of a knife, trim liquorice strap into horns and tails. Attach to cupcakes.
Add to Favourites