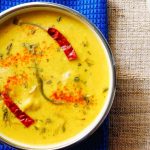 Yield: 4
Prep Time: 20 minutes
Cook Time: 20 minutes
Print
Nutrition facts

(per portion)
Nutrition facts

(per portion)
Calories: 7074 kcal
Carbohydrate Content: 208.38 g
Cholesterol Content: 33 mg
Fat Content: 692.4 g
Fiber Content: 18.9 g
Protein Content: 35.2 g
Saturated Fat Content: 76.13 g
Serving Size: 1
Sodium Content: 5477 mg
Sugar Content: 39.83 g
Trans Fat Content: 176.838 g
Punjabi Kadhi Pakora
Punjabi Kadhi Pakora is a sour curd Kadhi made with besan, curd and besan pakora and seasoned with other spices. Compared to other kadhi recipes, In this, kadhi is prepared in a Punjabi style, and it tastes delicious. Kadhi Pakora is served with steamed rice or vegetable khichdi.
Here is the simple Punjabi Kadhi Pakora Recipe to try out. Learn how to make tasty Punjabi Kadhi pakora in this easy step by step recipe.
Ingredients of Punjabi Kadhi Pakora Recipe
How to Make Punjabi Kadhi Pakora
To Make Pakora
Step 1: In a large bowl, add gram flour, chopped onion & potato, curd, aniseeds, crushed Kasuri methi, chopped coriander leaves, red chili powder, turmeric powder, soda bi-carb, and salt. Mix it well then add little water and make a thick batter.
Step 2: Now, heat oil in a deep frying pan on MEDIUM flame. Then take better in a spoon and drop it in oil and deep fry it till it turns golden brown and crisp. Drain them on absorbent paper.
To Make Kadhi Better
Step 1: In a bowl, with the help of blender beat the yoghurt and gram flour.
Step 2: Now, add water, turmeric powder, and salt to it and blend it again. Make sure that there are no lumps in the mixture.
Step 3: Transfer this better in a deep pan and turn on the flame then put the pan on medium flame.
For Tempering
Step 1: In another pan, add two tablespoons of oil. When the oil is heated, add mustard seeds, cumin seeds, fenugreek seeds.
Step 2: When they start spluttering add ginger-garlic paste and dried red chilies and sauté it for 2 minutes. Then add red chili powder, coriander powder, and garam masala to it and mix it well.
Step 3: Pour this temper over kadhi and simmer it for 15 minutes.
Step 4: After 15 minutes add pakora in kadhi and cook it for 2-3 minutes.
Step 5: Garnish this kadhi with chopped coriander leaves and serve it hot with rice.
Add to Favourites