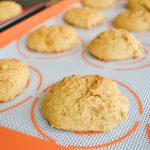 Yield: 3
Prep Time: 20 minutes
Cook Time: 20 minutes
Print
Nutrition facts

(per portion)
Nutrition facts

(per portion)
Calories: 2287 kcal
Carbohydrate Content: 245.92 g
Cholesterol Content: 0 mg
Fat Content: 135.52 g
Fiber Content: 22.2 g
Protein Content: 59.18 g
Saturated Fat Content: 22.388 g
Serving Size: 3
Sodium Content: 2104 mg
Sugar Content: 88.99 g
Trans Fat Content: 0.433 g
Pumpkin Raisin Cookies
Pumpkin raisin cookies are very easy and instant cookie recipe to try out. These cookies have the delicious taste of pumpkin, cinnamon, raisin, and all spices. You can also use walnuts and fruit juice sweetened cranberries instead of raisins to make the cookies. This recipe is worth a try and so easy to prepare for the Halloween parties, autumn gatherings, and other festivals. Here is the yummy cookies recipe to follow.
Ingredients of Pumpkin Raisin Cookies Recipe
How to Make Pumpkin Raisin Cookies
Step 1: In a microwave, place a rack in the center and preheat the microwave to 350 degrees F.
Step 2: Line 2 heavy large baking sheet with parchment paper.
Step 3: Mix the flour, oats, baking soda, all spices, cinnamon and salt in a bowl. Stir to blend them well.
Step 4: Now, in another bowl, mix vegetable oil, syrup, vanilla extract, sugar and pumpkin puree and whisk to combine.
Step 5: Gradually stir the ingredients well into the pumpkin mixture with the help of a spatula and stir in the raisins.
Step 6: To make a cookie, drop one tablespoon of pumpkin batter onto the prepared baking sheet.
Step 7: With the help of fingertips, Flatten each cookie to a 2 inch round shape. Sprinkle raw sugar onto the cookies.
Step 8: Now, bake the cookies in the microwave for 15-20 minutes.
Step 9: Once it's ready, remove the rack from the microwave and keep it aside to cool.
Step 10: Your delicious pumpkin raisin cookies are ready to eat.
Add to Favourites