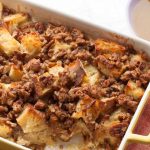 Yield: 6
Prep Time: 20 minutes
Cook Time: 60 minutes
Print
Nutrition facts

(per portion)
Nutrition facts

(per portion)
Calories: 2143 kcal
Carbohydrate Content: 247.31 g
Cholesterol Content: 1291 mg
Fat Content: 90.15 g
Fiber Content: 14.4 g
Protein Content: 97.08 g
Saturated Fat Content: 25.5 g
Serving Size: 1
Sodium Content: 4980 mg
Sugar Content: 81.7 g
Trans Fat Content: 0.468 g
Pumpkin Bread Pudding
Pumpkin bread pudding is a moist bread pudding recipe made with canned pumpkin, milk, eggs, french bread and more. Pumpkin bread pudding is a great dessert to enjoy with friends and family. This pudding is a perfect Thanksgiving dessert. You can use your choice of bread to make it. Learn how to bake this pumpkin bread pudding at home quickly.
Ingredients of Pumpkin Bread Pudding Recipe
How to Make Pumpkin Bread Pudding
Step 1: Apply butter on a baking sheet. And place it on the centre rack of the oven and preheat the oven to 170 °C.
Step 2: Now, cut the bread into small pieces.
Step 3: In a bowl, mix milk, sugar, eggs, canned pumpkin and flax seeds and mix them well and stir until it batters forms for 2 minutes.
Step 4: Then slowly adds salt, ginger, allspice, cloves, and cinnamon to it and whisk it for 2 minutes, prevent from clumping the mixture.
Step 5: Now, add bread to the baking dish. Toss until cubes are evenly coated.
Step 6: Pour the egg batter on the top of it and let the bread soak it and place the dish in the oven for 30 minutes
Step 7: Once it's ready to remove the baking plate from the oven and then in a saucepan add mascarpone and simmer it for 2-3 minutes.
Step 8: Place bread pudding on a plate and drizzle with sauce and serve.
Add to Favourites