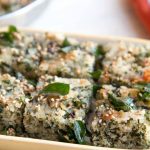 Yield: 3
Prep Time: 10 minutes
Cook Time: 20 minutes
Print
Nutrition facts

(per portion)
Nutrition facts

(per portion)
Calories: 600 kcal
Carbohydrate Content: 65.92 g
Cholesterol Content: 94 mg
Fat Content: 19.73 g
Fiber Content: 2.6 g
Protein Content: 37.04 g
Saturated Fat Content: 5.656 g
Serving Size: 3
Sodium Content: 1145 mg
Sugar Content: 11.66 g
Trans Fat Content: 0.207 g
Poha Dhokla
Poha Dhokla, a delicious and instant breakfast recipe. Dhokla is a famous snacks recipe from Gujarat. It served as a snack or side dish. Usually, it is prepared with chickpeas flour. But here I experienced a unique dhokla recipe with flattened rice (poha) and buttermilk. It is an effortless and quick recipe that can be made in minutes.
Once you taste this dhokla, I am sure you will be tempted to try more! You can also prepare it and pack it in your kid's lunchbox. Serve this yummy snack with green chutney. Here is the complete recipe to instantly make the Poha Dhokla.
Ingredients of Poha Dhokla Recipe
How to Make Poha Dhokla
Step 1: In a pan, put buttermilk and add turmeric powder and salt to it.
Step 2: Cook this mixture over MEDIUM-LOW heat for about 2 minutes.
Step 3: Meanwhile, wash flattened rice and place them into mixing bowl.
Step 4: Once the buttermilk mixture starts bubbling add it to the flattened rice. Stir it to mix well.
Step 5: Place this on a flat plate and spread this mixture evenly with a soft hand. Set aside for about 20 minutes.
Step 6: After 20 minutes cut them into square pieces.
Step 7: For the tempering, heat oil in a pan for tempering and add mustard seeds, curry leaves, and chopped chilies.
Step 8: When mustard seeds start spluttering add water with lemon juice and sugar. Mix well and let the water simmer for a minute.
Step 9: When the water starts bubbling remove from the heat and pour this tempering on prepared poha dhokla with using a spoon.
Step 10: Garnish it with coriander leaves and have this with tomato ketchup.
Add to Favourites