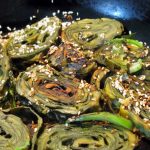 Yield: 4
Prep Time: 15 minutes
Cook Time: 20 minutes
Print
Nutrition facts

(per portion)
Nutrition facts

(per portion)
Calories: 1105 kcal
Carbohydrate Content: 172.12 g
Cholesterol Content: 0 mg
Fat Content: 35.97 g
Fiber Content: 9 g
Protein Content: 24.04 g
Saturated Fat Content: 5.532 g
Serving Size: 1
Sodium Content: 2463 mg
Sugar Content: 21.49 g
Trans Fat Content: 0.147 g
Patra
Patra or (Patarveliya is a famous snacks recipe from Gujarat. It is made from colocasia (arbi) leaves, with spicy and tangy gram flour (Besan) mixture spread and stacked upon each other and rolled in a particular way to form a pinwheel and then steamed. Then it is tempered with sesame seeds and grated coconut. Patra can be served all alone, or it can serve as a side dish in Gujarati thali. Here is the complete recipe for how to make delicious patra at home.
Ingredients of Patra Recipe
How to Make Patra
Step 1: Add required water into the steamer and let it boil.
Step 2: Now trim the stems of the colocasia (arbi) leaves.
Step 3: Now in a bowl and add all the ingredients and sufficient water and make a thick paste of it.
Step 4: Apply this paste all over the colocasia (arbi) leaf and place another leaf over on this leaf.
Step 5: After applying the besan paste fold the sides of the leaf and tightly roll it and place the rolls on a perforated plate then keep it in the steamer and steam it till it's cooked thoroughly.
Step 6: Once it's ready, take the rolls out from the steamer and let them cool then slice the rolls into the round shape.
Step 7: Now, in a frying pan, heat oil and add asafetida (Hing), mustard seeds and sesame seeds, when they start to splutter, add the Patra slices and toss it and cook it for 2-3 minutes.
Step 8: The delicious patra is ready. Serve it hot with scraped coconut and coriander leaves.
Add to Favourites