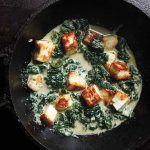 Yield: 4
Prep Time: 20 minutes
Cook Time: 30 minutes
Print
Nutrition facts

(per portion)
Nutrition facts

(per portion)
Calories: 562 kcal
Carbohydrate Content: 62.96 g
Cholesterol Content: 62 mg
Fat Content: 17.14 g
Fiber Content: 8.2 g
Protein Content: 43.07 g
Saturated Fat Content: 7.613 g
Serving Size: 1
Sodium Content: 3437 mg
Sugar Content: 37.24 g
Trans Fat Content: 0.207 g
Paneer Spinach and Baked Beans
A very different recipe to cook Paneer. Beans are full of protein and fibre. Spinach is also healthy. Paneer cooked with fresh spinach, and baked beans give this dish a unique taste. Enjoy this delicious paneer dish with butter roti or naan. Learn to make Paneer with spinach and beans and enjoy it with your family.
Ingredients of Paneer Spinach and Baked Beans Recipe
How to Make Paneer Spinach and Baked Beans
Step 1: Finely chop the spinach and boil it in half cup water and ¼ tablespoon salt for 5 minutes. Strain squeeze to remove any extra water.
Step 2: Now, crumble the paneer. Add salt & pepper to taste. Keep aside.
Step 3: Prepare the white sauce by mixing all the ingredients. Keep on fire in a heavy bottomed kadai. Cook, stirring continuously till thick pouring consistency.
Step 4: In a lightly greased dish arrange the boiled spinach layer at the bottom.
Step 5: On the Palak, layer spread the Paneer layer, if the Paneer is very dry sprinkle 1-2 tablespoon of milk on it.
Step 6: Spread the baked beans on the spinach-Paneer layer.
Step 7: Now, pour the white sauce in the centre over the baked beans, leaving the beans on the sides to show.
Step 8: Bake for 15-20 minutes at 200°C till the white sauce tums light brown.
Extra Tips:
You can also put the leftover baked beans in a stainless steel box and keep in the freezer compartment of the refrigerator for a month or even more without getting spoil it.
Add to Favourites