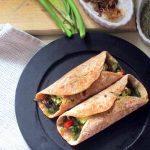 Yield: 3
Prep Time: 20 minutes
Cook Time: 40 minutes
Print
Nutrition facts

(per portion)
Nutrition facts

(per portion)
Calories: 2396 kcal
Carbohydrate Content: 335.92 g
Cholesterol Content: 217 mg
Fat Content: 85 g
Fiber Content: 29.5 g
Protein Content: 77.51 g
Saturated Fat Content: 48.366 g
Serving Size: 1
Sodium Content: 4107 mg
Sugar Content: 34.59 g
Trans Fat Content: 2.793 g
Paneer Paratha
Paneer Paratha is a very famous paratha recipe from Punjab. In Punjab, it is a staple food of every household. The dough of this Indian bread recipe is prepared with wheat flour and gram flour. The stuffing of the paratha is made from paneer (cottage cheese), peas, coriander, green chilies and more.
To make this Paratha is very easy and quick, so whenever you want to have some healthy food, you can instantly make it. You can enjoy this deliciously stuffed paneer paratha for breakfast, lunch or dinner. You can also make it for your kid's lunchbox. The best way to serve this paratha is with curd or pickle. Here are some easy steps to try out this delicious Paneer paratha or cottage cheese stuffed paratha.
Ingredients of Paneer Paratha Recipe
How to Make Paneer Paratha
Step 1: First of all boil the peas and mash them properly.
Step 2: Now, mash the paneer and mix the peas and paneer.
Step 3: In a pan, heat two tablespoons of ghee and add cumin seed, ginger paste, chopped green chillies, coriander leaves, one tablespoon of red chilli powder, garam masala, lime juice and salt to it.
Step 4: Now, mix it well and sauté this mixture for about 2-3 minutes.
Step 5: Then add peas and paneer mixture to it. Mix it well and sauté it for a minute.
Step 6: In a bowl, place gram flour and wheat flour and mix them.
Step 7: Then add one tablespoon of ghee, one red chilli powder and salt to it and make it into the dough.
Step 8: When the dough is ready to make equal balls from the dough and roll out into a small chapati.
Step 9: Then place the filling in the centre of chapati the close chapati well and re-roll again.
Step 10: Now, cook this paratha on hot tawa by applying ghee or butter on both sides.
Step 11: Your delicious paneer paratha is ready to serve.
Step 12: Serve this delicious paneer paratha with onion, pickle and fried green chillies.
Add to Favourites