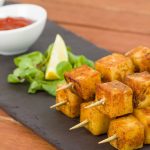 Yield: 4
Prep Time: 20 minutes
Cook Time: 15 minutes
Print
Nutrition facts

(per portion)
Nutrition facts

(per portion)
Calories: 333 kcal
Carbohydrate Content: 28.6 g
Cholesterol Content: 26 mg
Fat Content: 16.45 g
Fiber Content: 2.5 g
Protein Content: 19.39 g
Saturated Fat Content: 4.436 g
Serving Size: 4
Sodium Content: 1836 mg
Sugar Content: 21.51 g
Trans Fat Content: 0.048 g
Paneer Hariyali Tikka
Paneer is quite a versatile ingredient. Today we are making a simple vegetarian dish called Paneer Hariyali Tikka which is easy, tasty and flavorful.
In this North Indian recipe, paneer cubes marinated with mint and coriander's green paste arranged on skewers and grilled to perfection. This dish is delicious even children, as well as adults, love it alike. Typically, this mouthwatering paneer tikka can enjoy with tandoori roti and onion rings. Worth to try this delicious recipe of paneer! Here is the complete recipe to make the Paneer Hariyali Tikka.
Ingredients of Paneer Hariyali Tikka Recipe
How to Make Paneer Hariyali Tikka
Step 1: In a mixture grinder, put mint leaves, coriander leaves, green chilies, and lemon juice. Grind them to a smooth paste.
Step 2: Cut the cottage cheese into medium-sized cubes.
Step 3: In a medium-sized bowl, place the prepared green paste, yogurt, ginger-garlic paste, gram flour, chaat masala, garam masala, and salt. Mix well.
Step 4: Add oil and mix again, now add cottage cheese cubes and mix thoroughly so that the cottage cheese cubes are well coated with the green paste mixture. Set aside to marinate for at least 2 hours.
Step 5: Preheat the oven at 200° C. Now, thread the marinated cubes 1-inch gap into skewers and place it on the grill rack and grill about 15 minutes till it colors lightly. You can also do this over a moderately heated grill pan.
Step 6: Serve this yummy paneer hariyali tikka with onion rings and green mint chutney.
Add to Favourites