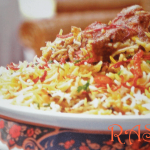 Yield: 6
Prep Time: 5h 00 min
Cook Time: 5 minutes
Print
Nutrition facts

(per portion)
Nutrition facts

(per portion)
Calories: 9191 kcal
Carbohydrate Content: 1261.75 g
Cholesterol Content: 567 mg
Fat Content: 341.63 g
Fiber Content: 193.7 g
Protein Content: 448.05 g
Saturated Fat Content: 62.545 g
Serving Size: 1
Sodium Content: 22233 mg
Sugar Content: 115.38 g
Trans Fat Content: 1.267 g
Mutton Biryani
Mutton Biryani or Gosht Biryani is a delicious biryani that is loved by most of the people who loves non-veg food. In India, Biryani is loved by almost every person, whether it is veg or non-veg. Your guest will be amazed by the hearty mutton biryani recipe. Gosht biryani is a perfect combination of taste and aroma; Mutton biryani is cooked with rice and marinated mutton (Gosht) with different Indian spices like cumin powder, coriander powder.
Biryani is made on special occasions like Eid, Iftar parties. Though Mutton biryani is a time-consuming recipe as the layers of mutton and saffron-milk rice are cooked in a "dum" style which takes more time to prepare, you will enjoy cooking it. Serve this biryani with Raita. Follow this easy step by step recipe to make delicious and tasty mutton biryani.
Ingredients of Mutton Biryani Recipe
How to Make Mutton Biryani
To Make Meat
Step 1: Add ginger, garlic and green chillies into the blender and blend it and make a paste.
Step 2: Now, spread this paste on the meat pieces and mix the remaining paste with the meat and mix it well. Keep it aside for 4 hours or keep it in the refrigerator for overnight.
Step 3: Now, take a frying pan and add two tablespoon oil, add plums to it and fry it for 5 minutes until it becomes slightly red then add meat to it.
Step 4: Now, cut each onion into two pieces and fry it into one tablespoon oil till it becomes golden brown and crispy.
Step 5: Mix these fried onions with the meat.
To Make Rice
Step 1: Take a pressure cooker and add 6 cups of water to it and boil it on HIGH flame, once the water starts boiling add salt and basmati rice to it and mix it.
Step 2: Now, let the rice cook for 5-6 minutes into the pressure cooker. Once the rice is ready, remove it from the heat and keep it aside.
Step 3: Now, in another frying pan, add seven tablespoon ghee, meat and garam masala and mix it well. After 1 minute add one tablespoon water to it and again mix it well.
Step 4: Then remove the pan from the heat and remove the extra water from the meat and add rice and milk to it.
Step 5: In another pan, heat the ghee for 1 minute then remove it from the heat and immediately add Elachi and Caraway Seeds to it and fry it, then add this mixture to the previously made rice and cook it for 20 minutes.
Step 6: After that remove it from the heat and keep it aside to cool.
Step 7: To serve the mutton biryani, first spread the rice into the bowl, then spread mutton over it then again create a layer of rice on it. Then, serve it hot with onion salad or raita.
Add to Favourites