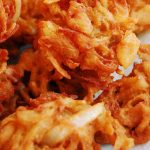 Yield: 2
Prep Time: 15 minutes
Cook Time: 15 minutes
Print
Nutrition facts

(per portion)
Nutrition facts

(per portion)
Calories: 8742 kcal
Carbohydrate Content: 219.49 g
Cholesterol Content: 0 mg
Fat Content: 874.95 g
Fiber Content: 12.3 g
Protein Content: 29.31 g
Saturated Fat Content: 88.768 g
Serving Size: 1
Sodium Content: 2383 mg
Sugar Content: 13.5 g
Trans Fat Content: 235.588 g
Mumbai Style Onion Pakora
Mumbai style onion pakoda or Kanda Bhaji is a delicious street food of Mumbai. Monsoon is the season, which everyone enjoys a lot. On rainy days, people enjoy pakora with hot tea. Hot Pakora with hot tea makes the rainy atmosphere more romantic and enjoyable.
Kanda Bhaji is a deep fried onion fritter made with onion, gram flour, and other spices. Here is the easy recipe for the Mumbai-style onion pakora, which is entirely different from traditional onion pakora recipe. Serve hot Kanda bhaji with dry tamarind chutney or green coriander chutney and hot tea. Also, you can enjoy it with tomato sauce!!
Ingredients of Mumbai Style Onion Pakora Recipe
How to Make Mumbai Style Onion Pakora
Step 1: Cut the onion in two equal part and then cut into slices.
Step 2: Add these onion slices into a bowl and add salt to it, which separate the onion from each other.
Step 3: Keep the onion aside for 15-20 minutes.
Step 4: Now, add red chili powder, asafoetida and besan to it and mix them well.
Step 5: Ensure the onions covered adequately with the besan batter.
Step 6: Now, heat the oil into the frying pan at the MEDIUM heat.
Step 7: Now, add the batter with your figures or with using the spoon to the oil and deep fry it until it becomes crispy and golden brown. Repeat the process for remaining batter.
Step 8: Your crispy onion pakora is ready to serve. Enjoy the pakora with green chutney.
Add to Favourites