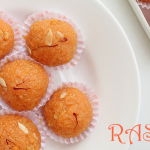 Yield: 4
Prep Time: 20 minutes
Cook Time: 45 minutes
Print
Nutrition facts

(per portion)
Nutrition facts

(per portion)
Calories: 5543 kcal
Carbohydrate Content: 469.64 g
Cholesterol Content: 1026 mg
Fat Content: 391.67 g
Fiber Content: 11.4 g
Protein Content: 54.29 g
Saturated Fat Content: 243.501 g
Serving Size: 1
Sodium Content: 3153 mg
Sugar Content: 222.58 g
Trans Fat Content: 14.882 g
Motichur Ladoo
Motichoor Laddoo is a popular sweet dish served on festivals like Diwali, Ganesh Chaturthi and special occasions. In most of the Indian festivals, you may find ladoos as a prasad. Ladoos are very famous sweets in India. Ladoo is Lord Ganesha's favorite food. You can make motichoor ladoo on this Ganesh Chaturthi festival.
Motichoor ladoo is made with besan, ghee, cardamom powder and garnished with cardamom seeds. Here I am sharing a motichoor ladoo recipe which is very quick and easy to make at home. Let's check out how to make motichoor ladoo recipe. Avoid to store it in a refrigerator as it makes it hard and the real taste of the sweet will be missed.
Ingredients of Motichur Ladoo Recipe
How to Make Motichur Ladoo
Step 1: Take a bowl and mix the besan with water and make a smooth batter.
Step 2: Now, in another frying pan add sugar and 1 cup water and boil it till the sugar melts.
Step 3: Then add milk and again boil for 4-5 minutes. Add cardamom powder and orange color to it and mix it well.
Step 4: Now, in a frying pan add ghee and heat it. Now, take a perforated spoon to drop boondis from besan batter in the ghee.
Step 5: Wipe the batter on the spoon so that the small drops will fall through the spoon holes into the ghee.
Step 6: Fry the boondis on Low Flame or till it becomes golden brown. Repeat the procedure for remaining batter.
Step 7: Now, Put this fried boondis into the previously made sugar syrup and stir it well.
Step 8: Then, take shape it into small ladoo of your required size.
Step 9: Garnish it with Pistachios and cardamom seeds and Motichur Ladoo is ready to serve.
Add to Favourites