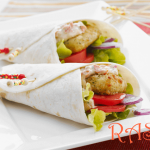 Yield: 8
Prep Time: 20 minutes
Cook Time: 30 minutes
Print
Nutrition facts

(per portion)
Nutrition facts

(per portion)
Calories: 107463 kcal
Carbohydrate Content: 8000.67 g
Cholesterol Content: 15470 mg
Fat Content: 5651.49 g
Fiber Content: 243.8 g
Protein Content: 6729.94 g
Saturated Fat Content: 1294.629 g
Serving Size: 1
Sodium Content: 249082 mg
Sugar Content: 25.03 g
Trans Fat Content: 0.145 g
Mexican Fish Wraps
Mexican Fish wraps is a very low-fat recipe. Tacos are the main ingredients of Mexican food. Fish wraps or fish taco is made from a fresh fish. This recipe is easily implemented and can make an excellent dish for your meal. For a different variation, you can also use meat, chicken to make the wraps and vegetarians can use potato or panner in place of fish and make the recipe as the given below. Here is the complete recipe of Mexican Fish Wraps or Fish Tortilla Wrap.
Ingredients of Mexican Fish Wraps Recipe
How to Make Mexican Fish Wraps
Step 1: To make a curd dip, mix all the ingredients of curd dip and keep it into the refrigerator.
Step 2: Spread lemon juice and salt to the fish fillets and keep aside. Preheat the oven at convection 250 °C.
Step 3: Now, dip the fish fillets into the egg white and coat with the breadcrumbs. Place all the coated fish fillets on a baking sheet and spread oil to it.
Step 4: Now, bake this at 250 °C for 10 minutes. Turn them in between and bake them until it cooked and breadcrumbs become golden brown and crispy.
Step 5: Now, take a tortilla, warm it up for 30 seconds in the microwave.
Step 6: Sprinkle some lettuce on the top ¾ of each tortilla.
Step 7: Place 2 fish fillets and one tablespoon of curd dip on each.
Step 8: Bring the bottom of the tortilla up and fold it with the other sides over envelop the filling.
Add to Favourites