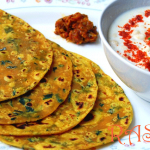 Yield: 3
Prep Time: 10 minutes
Cook Time: 20 minutes
Print
Nutrition facts

(per portion)
Nutrition facts

(per portion)
Calories: 1373 kcal
Carbohydrate Content: 224.53 g
Cholesterol Content: 4 mg
Fat Content: 38.05 g
Fiber Content: 11.4 g
Protein Content: 37.45 g
Saturated Fat Content: 6.093 g
Serving Size: 1
Sodium Content: 2447 mg
Sugar Content: 29.29 g
Trans Fat Content: 0.148 g
Methi Thepla
Methi Thepla is a very famous breakfast of Gujarat. Thepla is ubiquitous food in Gujarati Cuisine. There are various recipes to make Thepla which are healthy and delicious. Methi Thepla is one of them. This Indian flat-bread is made from wheat flour, and fresh fenugreek leaves with other Indian spices.
Methi is very healthy to eat and gives nutrition to your body, and Methi Thepla is cooked with less oil and easier to digest. You want to add some taste of garlic and chili then you can also add garlic-chili paste to the dough that gives the spicy flavor to the thepla. Thepla can be your best companion for breakfast, lunch or in your kid's lunchbox. Methi thepla can be eaten with curd or pickle or with hot tea. Here is the easy recipe to make Gujarati Sweet Methi Thepla.
Ingredients of Methi Thepla Recipe
How to Make Methi Thepla
Step 1: Take a bowl and add wheat flour, millet flour, oil, turmeric powder, chili powder, curd, sugar, salt, sesame seeds, fenugreek leaves, ginger – garlic paste and asafoetida and knead into soft dough with required water.
Step 2: Knead the dough well with using some oil.
Step 3: When the dough is ready to make small round rolls from it.
Step 4: Now, take each rolls and make a medium-sized round shape roti. You can also give your favorite shape to the roti.
Step 5: Now, Heat the Tava (griddle) and cook the roti with spreading some oil to it.
Step 6: when one side of roti is ready, turns it to other side and cook it with spreading some oil when the roti turns into golden brown from both sides remove it from the heat.
Step 7: Serve hot methi paratha with curd or mango pickle.
Add to Favourites