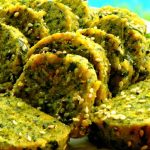 Yield: 4
Prep Time: 10 minutes
Cook Time: 25 minutes
Print
Nutrition facts

(per portion)
Nutrition facts

(per portion)
Calories: 1082 kcal
Carbohydrate Content: 169.21 g
Cholesterol Content: 0 mg
Fat Content: 35.02 g
Fiber Content: 30.4 g
Protein Content: 37.18 g
Saturated Fat Content: 5.888 g
Serving Size: 1
Sodium Content: 116 mg
Sugar Content: 11.56 g
Trans Fat Content: 0.145 g
Methi Muthia
Methi Muthia Recipe, a tasty Gujarati Recipe made with fenugreek leaves. It's a steamed fenugreek dumpling in a thick gravy. It is a very healthy and tea time snacks recipe. Methi muthia can be made in two way either steamed or fried. Usually, fried muthia made and used as a dumpling in Gujarati Undhiyu. On a routine basis, people prefer to make a steamed muthia, which is healthier and loaded with spices. Here I have shared a recipe of a steamed methi muthia. Enjoy this methi muthia in this cold winter season with hot tea, or you can serve the delicious Methi Muthiya with Mint Chutney or Gujarati Kadhi.
Ingredients of Methi Muthia Recipe
How to Make Methi Muthia
Step 1: Add gram flour in a bowl then add the fenugreek leaves, green chili, and oil. Knead into a semi-hard dough and let the dough rest for 5 minutes.
Step 2: Divide the dough into ½ "round balls.
Step 3: Grease the steamer and steam the balls for about 7-8 minutes.
Step 4: for the gravy, heat the oil in a wok; add the onion and fry it till it turns brown.
Step 5: Add the tomatoes, cumin seeds, ginger paste, and garlic paste; cook for about 10 minutes or till the gravy is thick.
Step 6: add the steamed balls and cook for 5 minutes.
Step 7: Serve hot with tea, or you can have it as it is.
This Recipe is Adopted From Gujarati Kitchen Book
Add to Favourites