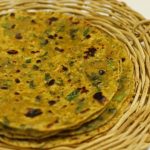 Yield: 4
Prep Time: 20 minutes
Cook Time: 15 minutes
Print
Nutrition facts

(per portion)
Nutrition facts

(per portion)
Calories: 5816 kcal
Carbohydrate Content: 338.64 g
Cholesterol Content: 16 mg
Fat Content: 482.5 g
Fiber Content: 96 g
Protein Content: 103.94 g
Saturated Fat Content: 54.812 g
Serving Size: 4
Sodium Content: 1608 mg
Sugar Content: 15.82 g
Trans Fat Content: 117.87 g
Methi Dhebra
Methi dhebra is a Gujarati snacks recipe which is made from millet flour mixed with fenugreek leaves, besan, and other spices. You can make dhebra either frying in a pan or grilled over tawa. You can use fresh fenugreek leaves or dried one and can make it in any season. Especially in winter when you get some fresh fenugreek leaves, people prefer to make it during winter. Millet flour and fenugreek leaves are good for health and energies you in the cold winter days.
Gujarati people love to prepare it and carry it while they do travel and enjoy it with hot tea and it will become a tummy filling breakfast. You can also enjoy this tasty methi dhebra with curd, green coriander chutney, and pickles. Also, You can also store methi dhebra for 2-3 days. Here is the quick recipe to make Gujarati methi na dhebra at home.
Ingredients of Methi Dhebra Recipe
How to Make Methi Dhebra
Step 1: Mix all the ingredients and knead with just enough water to make a soft dough.
Step 2: Divide the dough equally into small balls. Roll each ball out into 4" disc.
Step 3: Heat a griddle on HIGH heat. LOWER heat to minimum and lay a disc flat over it; cook on both sides till small bubbles appear on the surface.
Step 4: Now, Increase the flame to MEDIUM; sprinkle ½ tablespoon oil around the disc and ¼ tablespoon oil on the surface of the disc. Fry till small brown spots appear on both sides. Remove from the griddle at once.
Step 5: Repeat till all the discs are ready.
Step 6: Serve warm or cold at teatime.
This Recipe is Adopted From Gujarati Kitchen Book
Add to Favourites