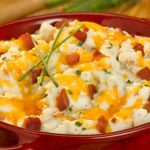 Yield: 5
Prep Time: 10 minutes
Cook Time: 25 minutes
Print
Nutrition facts

(per portion)
Nutrition facts

(per portion)
Calories: 5852 kcal
Carbohydrate Content: 681.11 g
Cholesterol Content: 672 mg
Fat Content: 306.27 g
Fiber Content: 81.9 g
Protein Content: 112.81 g
Saturated Fat Content: 189.709 g
Serving Size: 1
Sodium Content: 4891 mg
Sugar Content: 64.55 g
Trans Fat Content: 0.415 g
Mashed Potatoes
Yummy, creamy mashed potatoes recipe that is easy to make. It's a perfect recipe for the vegetarians. To make mashed potatoes is easy and can be ready in no time. While making mashed potatoes ensure you have put the potatoes first in cold water then boil it, so it's cooked quickly. Let's learn how to make mashed potatoes recipe with cheese cream.
Ingredients of Mashed Potatoes Recipe
How to Make Mashed Potatoes
Step 1: Preheat the oven to 200 °C.
Step 2: Wash the potatoes well then with using knife prick the potatoes in several parts.
Step 3: Now, place to potatoes on a baking sheet and bake the potatoes for 40-50 minutes.
Step 4: When the potatoes are wholly baked cut the potatoes in half lengthwise and keep it aside to cool.
Step 5: When the potatoes are becoming cold and soft to mash, drain them and then push to potato pieces through a ricer.
Step 6: Now, in a saucepan heat the cream and butter and add the potatoes through a ricer into a bowl.
Step 7: Now, add the milk, salt, and pepper to it and mix them well together and heat for 2-3 minutes.
Step 8: once it's ready to serve immediately.
Add to Favourites