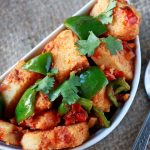 Yield: 3
Prep Time: 10 minutes
Cook Time: 15 minutes
Print
Nutrition facts

(per portion)
Nutrition facts

(per portion)
Calories: 311 kcal
Carbohydrate Content: 10.87 g
Cholesterol Content: 33 mg
Fat Content: 25.22 g
Fiber Content: 2.8 g
Protein Content: 11.92 g
Saturated Fat Content: 4.672 g
Serving Size: 1
Sodium Content: 62mg
Sugar Content: 1266 mg
Trans Fat Content: 0.151 g
Masala Idli
When you have leftover idli, then next day give it a little twist with spices and make Masala Idli. It's flavorful and spicy in a taste. These masala idlis are stir-fried with sautéed onion, tomato and capsicum mixture which is flavored with spices like red chili powder, salt, and pepper. Whenever I have leftover idlis, I made this masala idli for my family members and me. They just love masala idlis. Try it and enjoy.
Ingredients of Masala Idli Recipe
How to Make Masala Idli
Step 1: Make small pieces of idli and set aside. If they are small, then avoid making pieces.
Step 2: Heat 2 tablespoon of oil in a heavy bottomed pan stir fry the pieces of idli until lightly crisp. Transfer them to the bowl and set aside.
Step 3: In the same pan, heat remaining oil and add onions, capsicum, green chilies and over medium heat sauté them until tender.
Step 4: Now, add chopped tomatoes and season it with spice like red chili powder, turmeric, salt, and pepper.
Step 5: Add stir-fried idli and toss everything well. Remove from the pan.
Step 6: Garnish this with chopped fresh coriander leaves and mint leaves. Enjoy this delicious masala idli with ketchup or tamarind chutney.
Add to Favourites