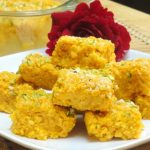 Yield: 2
Prep Time: 10 minutes
Cook Time: 25 minutes
Print
Nutrition facts

(per portion)
Nutrition facts

(per portion)
Calories: 317 kcal
Carbohydrate Content: 53.19 g
Cholesterol Content: 15 mg
Fat Content: 9.13 g
Fiber Content: 9.7 g
Protein Content: 10.58 g
Saturated Fat Content: 3.943 g
Serving Size: 1
Sodium Content: 459 mg
Sugar Content: 27.43 g
Trans Fat Content: 0.182 g
Mango Coconut Burfi
Coconut Burfi is a classic and traditional recipe of sweet dish. But today, I am sharing a unique variety of coconut burfi which is flavored with the taste of mango. It is delicious Indian cuisine and typically served as dessert. It has a soft and juicy texture which adds more tastiness to this dish. To prepare this mango coconut burfi, it requires only a few ingredients such as mango pulp, coconut scrap, sugar, milk, cardamom powder, and pistachio nut. Here is the complete mango coconut burfi recipe to try in this summer.
Ingredients of Mango Coconut Burfi Recipe
How to Make Mango Coconut Burfi
Step 1: First grease the plate with ghee and set aside.
Step 2: In a pan, dry roast the coconut scrap over MEDIUM heat for 7-8 minutes or until it turns light brown and toasted.
Step 3: Add milk, sugar and mango pulp. Mix well.
Step 4: Cook this mixture till it gets thick by stirring it all the time.
Step 5: Remove from the heat and mix in cardamom powder.
Step 6: Now, transfer it to the prepared plate and spread it evenly and smooth the surface.
Step 7: Let it sit for about 4-5 minutes.
Step 8: Once it is appropriately set, cut it into pieces and garnish with pistachio nuts.
Add to Favourites