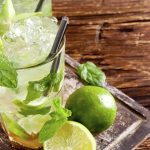 Yield: 1
Prep Time: 15 minutes
Print
Nutrition facts

(per portion)
Nutrition facts

(per portion)
Calories: 325 kcal
Carbohydrate Content: 75.3 g
Cholesterol Content: 1 mg
Fat Content: 5.54 g
Fiber Content: 1.2 g
Protein Content: 2.61 g
Saturated Fat Content: 4.304 g
Serving Size: 1
Sodium Content: 73 mg
Sugar Content: 66.02 g
Trans Fat Content: 0 g
Lost In The Forest Mocktail
"Lost in the forest" drink is another fantastic Mocktail recipe. This bright green, icy drink is very slushy. To prepare this drink, it requires very few ingredients like mint syrup, lemon juice, crushed ice and topped with sprite. Now, to know how to make this drink follow the below-given recipe steps.
Ingredients of Lost In The Forest Mocktail Recipe
How to Make Lost In The Forest Mocktail
Step 1: In a shaker, put lots of crushed ice, lemon juice, and mint syrup.
Step 2: Now, shake and transfer it to the glass.
Step 3: Then put few lemon slices and the chili pieces and top with sprite.
Step 4: Now, thread mint and grapes on a straw or stirrer and alternately arrange a big mint spring on the side in the drink.
Step 5: After that drizzle a little mint syrup on top and serve it cool.
Add to Favourites