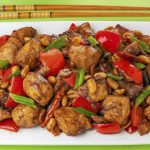 Yield: 6
Prep Time: 15 minutes
Cook Time: 20 minutes
Print
Nutrition facts

(per portion)
Nutrition facts

(per portion)
Calories: 2626 kcal
Carbohydrate Content: 106.18 g
Cholesterol Content: 642 mg
Fat Content: 164.4 g
Fiber Content: 11 g
Protein Content: 183.99 g
Saturated Fat Content: 25.196 g
Serving Size: 6
Sodium Content: 6152 mg
Sugar Content: 43.28 g
Trans Fat Content: 0.468 g
Kung Pao Chicken
Kung Pao Chicken is a classic dish in Sichuan cuisine which is a region of China. It is one of the tastiest chicken dishes having a nice spicy and tangy flavor. It is a stir-fry dish made with peanuts, chicken, vegetables and chili peppers. The chicken tastes tender and smooth, while the vegetables like the chestnuts, bell peppers and zucchini are crisp and refreshing. This incredibly delicious Chinese food comes out very yummy. So give it a try today.
Ingredients of Kung Pao Chicken Recipe
How to Make Kung Pao Chicken
Step 1: In a bowl, combine the egg white, soy sauce, rice wine, oil, cornstarch, and salt. Whisk them well to blend well.
Step 2: Add chicken cubes to this prepared marinating and stir well. Make sure that all cubes of chicken coated thoroughly. Keep in refrigerator for about 30 minutes. Drain chicken using a colander.
Step 3: In another bowl, combine the chicken broth, soy sauce, rice wine, rice vinegar, brown sugar, and cornstarch. Whisk them till well-blended. Set aside.
Step 4: In a wok, heat one tablespoon of oil over HIGH heat until smoking and rotate to coat bottom.
Step 5: Add garlic and ginger and sauté it for 30 seconds or until fragrant then add peanuts and stir-fry them for about 30 seconds or until lightly brown, tossing regularly.
Step 6: Then add zucchini and chestnut and again stir-fry them for about 2 minutes or until tender yet crisp.
Step 7: After that add diced bell peppers and sauté them for another minute. Transfer them to a plate and keep warm.
Step 8: Wipe down wok and add remaining two tablespoons of oil and heat to almost smoking over HIGH heat and rotate to coat bottom.
Step 9: Add chili peppers and sauté it for about 10-20 seconds or until peppers begin to blacken and oil slightly fragrant. Stir regularly.
Step 10: Add marinated chicken and cook it for about 3-5 minutes or until no longer pink. Transfer it to plate and keep warm.
Step 11: Whisk the combined sauce ingredients again to disperse cornstarch which may have settled on the bottom. Add this mixture to the wok and bring it to boil.
Step 12: Add chicken and stir-fried vegetable mixture and continue to cook for about 1-2 minutes or until heated through and the sauce thickened. Stir regularly.
Step 13: Garnish it with spring onion greens and serve hot.
Add to Favourites