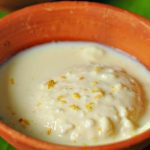 Yield: 3
Prep Time: 25 minutes
Cook Time: 30 minutes
Print
Nutrition facts

(per portion)
Nutrition facts

(per portion)
Calories: 2505 kcal
Carbohydrate Content: 434.32 g
Cholesterol Content: 89 mg
Fat Content: 59.59 g
Fiber Content: 9.8 g
Protein Content: 74.24 g
Saturated Fat Content: 11.896 g
Serving Size: 1
Sodium Content: 1939 mg
Sugar Content: 408.57 g
Trans Fat Content: 0.011 g
Kheer Mohan
Kheer Mohan is a fantastic and marvelous sweet dish. This beautiful dessert is easy and can be prepared by a novice. This irresistibly sweet dish is made from cottage cheese. In this recipe, the stuffed cottage cheese balls are simmer into the sugar syrup which is flavored with green cardamom powder and saffron. Try this different sweet dish whenever hunger pangs strike on the fasting day.
Ingredients of Kheer Mohan Recipe
How to Make Kheer Mohan
Step 1: In a bowl, mix the khoya, crushed nuts, and cardamom powder. Keep aside.
Step 2: Now, take cottage cheese and divide into 20 parts. Roll into balls and then make a well in the center of the ball and fill with a ½ teaspoon of khoya mixture.
Step 3: Bring the edges of cottage cheese balls together to seal the filling and shape into the ball it should be smooth.
Step 4: Repeat this process for remaining all the cottage cheese parts.
To Make Syrup:
Step 1: In a large saucepan, place sugar, water, saffron, and green cardamom powder. Mix well and bring it to boil over medium heat for about 12 minutes.
Step 2: Now, put the cheese balls in the syrup and cover the saucepan and lower the heat and simmer for about 15 minutes.
Step 3: After 15 minutes turn off the flame and allow it to cool.
Step 4: Once it cool to room temperature garnish it with sliced pistachio and serve.
Add to Favourites