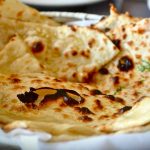 Yield: 3
Prep Time: 35 minutes
Cook Time: 20 minutes
Print
Nutrition facts

(per portion)
Nutrition facts

(per portion)
Calories: 2445 kcal
Carbohydrate Content: 161.41 g
Cholesterol Content: 500 mg
Fat Content: 190.9 g
Fiber Content: 5.9 g
Protein Content: 28.18 g
Saturated Fat Content: 119.257 g
Serving Size: 1
Sodium Content: 2857 mg
Sugar Content: 8.24 g
Trans Fat Content: 7.441 g
Khamiri Roti
Khamiri Roti is a Mughlai recipe. Khamiri roti is made by using yeast (khamir) and therefore is very soft to eat and thick in size. 'Khamira' means fermented and in this dish, we used yeast to make this flatten bread. Khamiri roti is a flatbread made from wheat flour, warm milk, ghee, and sugar.
Khamiri roti is Mughlai roti which tastes best with the Mughlai food, curries like Dal Makhani, Navratan Dal and non-vegetarian food dish. Also, you can enjoy it with any Indian dishes. Learn to make this Khamiri roti at home and enjoy the meal.
Ingredients of Khamiri Roti Recipe
How to Make Khamiri Roti
Step 1: First of all, add flour in a bowl and add salt and ajwain to it.
Step 2: Now, dissolve the yeast in warm water in which sugar is added. Leave it to rise for 10 minutes.
Step 3: After that make bay in the flour, pour the dissolved yeast into it and knead the dough with warm water.
Step 4: Then cover the dough with a damp cloth and keep aside for half an hour in a warm place to rise.
Step 5: After half an hour take the dough and divide it into equal-sized balls.
Step 6: Now, roll out each ball into a round chapati.
Step 7: Then cook it in a hot tandoor or bake on a greased baking tray in a hot oven until brown.
Step 8: When it is cooked apply butter or ghee and serve hot.
Add to Favourites