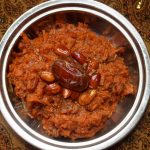 Yield: 5
Prep Time: 20 minutes
Cook Time: 20 minutes
Print
Nutrition facts

(per portion)
Nutrition facts

(per portion)
Calories: 1018
Carbohydrate Content: 142.7g
Cholesterol Content: 105mg
Fat Content: 53.8g
Protein Content: 6.1g
Saturated Fat Content: 27.9g
Serving Size: 5
Sodium Content: 7mg
Sugar Content: 126.5g
Khajur Halwa
Dates are very healthy and full of fibers, and you can easily digest them. Dates halwa is a very healthy recipe to try out during the winter. Khajur halwa is an easy recipe which is made from dates, sugar, ghee, and milk. You can make it in quantity and can also store it in an airtight container for a few days. To make the halwa use a soft khajur which is easily blended and makes the halwa more easily.
Ingredients of Khajur Halwa Recipe
How to Make Khajur Halwa
Step 1: Remove the seed from Dates and cut them into small pieces and soak the dates in hot milk for 4-5 hours.
Step 2: Grease the plate with the ghee and keep it aside.
Step 3: Now, add the milk soaked Dates into the mixture and grind them to the smooth paste.
Step 4: Then, Heat the kadhai over the MEDIUM heat and add Dates paste, then add sugar to it and cook it for 5-10 minutes. Keep stirring continuously.
Step 5: Then, add ghee to it and keep stirring it with the ghee until it thoroughly mixes with the paste. Again repeat the procedure by adding more ghee to it.
Step 6: Then add cashew nuts and cardamom powder to it and stir well.
Step 7: Continue to stir the mixture for 30-35 minutes. Once the Khajur halwa is ready, turn off the flame and remove the kadhai from the heat.
Step 8: Now, transfer the khajur halwa to the greased plate and spread it. Once the Halwa becomes cool, cut it into small pieces.
Step 9: The delicious Khajur Halwa is ready to enjoy!!
Additional Tips:
Rather than picking the whole Dates, you can also use seedless Dates to make the khajur halwa.
Prefer to use the soft and black Date, as it's very sweet and tasty.
Add to Favourites