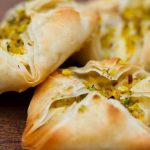 Yield: 4
Prep Time: 20 minutes
Cook Time: 20 minutes
Print
Nutrition facts

(per portion)
Nutrition facts

(per portion)
Calories: 1347
Carbohydrate Content: 44.8g
Cholesterol Content: 131mg
Fat Content: 132.8g
Protein Content: 0.1g
Saturated Fat Content: 43.9g
Serving Size: 4
Sodium Content: 40 mg
Sugar Content: 44.1 g
Khaja
Khaja is a famous sweet recipe. Khaja had a mile-Feuille like structure and dipped with the sugar syrup or coated with the icing sugar. Khaja is prepared on the special occasions and also served as a Prasad in the Jagannath Temple of Puri. Khaja is a puff pastry which is crunchy and sweet, and kids love it. You can also store the Khaja in an air-tight container for 3-4 days. Here is the step by step recipe to make a Khaja in your kitchen. Enjoy!!
Ingredients of Khaja Recipe
How to Make Khaja
Step 1: In a large bowl, add the maida, ghee, and water to it and make dough from it.
Step 2: Cut the dough and divide it into small portions. Now, cover the balls with the cloth and keep it aside.
Step 3: Now, in another bowl, add ghee, two tablespoon flour, oil and mix them well and make a thin paste of it.
Step 4: Now, take a dough ball and roll out it on a lightly floured flat surface. Repeat the same procedure with the other pieces.
Step 5: Smear the flour-ghee paste over one layer of dough and cover it with the other layer.
Step 6: Then again roll them together tightly. Now, cut the roll into 2 cm pieces and press down the pieces slightly with your fingers to flatten them.
Step 7: Roll out into 5 cm long pieces.
Step 8: Now, in a kadhai, heat the oil over the MEDIUM heat and drop the rolled pieces into the oil and deep fry them.
Step 9: Cook the Khaja till the turns golden in color. Once it's ready, remove it from the oil and drain on absorbent paper.
Step 10: Now, dust the hot khaja with the icing sugar and let it cool completely before serving or storing in the container.
Add to Favourites