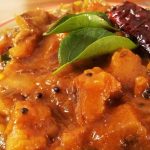 Yield: 3
Prep Time: 15 minutes
Cook Time: 20 minutes
Print
Nutrition facts

(per portion)
Nutrition facts

(per portion)
Calories: 1025 kcal
Carbohydrate Content: 173.96 g
Cholesterol Content: 2 mg
Fat Content: 43.5 g
Fiber Content: 114.4 g
Protein Content: 33.11 g
Saturated Fat Content: 6.079 g
Serving Size: 1
Sodium Content: 2445 mg
Sugar Content: 37.62 g
Trans Fat Content: 0.073 g
Kachhe Kele Ki Sabji
As we know banana is delicious and very healthy fruit which is very rich in vitamins, minerals, and fiber. It is a good source of resistance starch, energy and contains a lot of iron, potassium and has many nutrition values. After all this benefits facts let me bring you a delicious recipe of raw banana for your fasting, 'Kele Ki Sabji.' This sabji tastes best as a side dish with sama chawal. If you are craving for a lip-smacking dish, try this recipe. You can easily make this Jain dish at home with this easy recipe guide.
Ingredients of Kachhe Kele Ki Sabji Recipe
How to Make Kachhe Kele Ki Sabji
Step 1: Peel the bananas and chop them into small pieces.
Step 2: In a bowl, take an ample amount of water and add one teaspoon of salt to it.
Step 3: Transfer the banana pieces into salted water immediately otherwise they get discolored.
Step 4: Now, put some water in a deep pan and bring it to boil.
Step 5: When the water starts boiling add banana pieces and little turmeric powder. Stir it and allow it to boil till the pieces turn tender.
Step 6: When the banana pieces done drain the water and set aside to cool.
Step 7: In another bowl, whisk together the yogurt, turmeric powder, and salt.
Step 8: In a pan, heat oil then add cumin seeds and curry leaves. Allow cumin seeds to splutter.
Step 9: Now, add banana pieces and gently stir in yogurt mixture.
Step 10: Add ¼ cup of water to it. Stir well and cover the pan with the lid and cook this for about 3-4 minutes.
Step 11: At last, add lemon juice in it and sprinkle with arrowroot powder. Stir it to mix.
Step 12: Garnish with chopped cilantro.
Step 13: Serve hot with kuttu chapati or Rajgira poori.
Add to Favourites