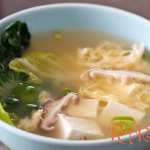 Yield: 6
Prep Time: 10 minutes
Cook Time: 35 minutes
Print
Nutrition facts

(per portion)
Nutrition facts

(per portion)
Calories: 11515 kcal
Carbohydrate Content: 28.22 g
Cholesterol Content: 0 mg
Fat Content: 1319.49 g
Fiber Content: 6.9 g
Protein Content: 8.51 g
Saturated Fat Content: 1067.84 g
Serving Size: 1
Sodium Content: 9101 mg
Sugar Content: 7.89 g
Trans Fat Content: 0.024 g
Japanese Miso Soup
Traditional Japanese vegetable miso soup is quick, easy and tasty soup recipe. This miso soup is a clear vegetable soup of bean paste flavor. Japanese prefer to drink miso soup every day by adding different ingredients. This is an easy vegan soup filled with vegetables which makes it healthy and light to eat. This Japanese Miso Soup is perfect to serve as the starter or afternoon snack. Here is the complete Miso Soup Recipe With Vegetables.
Ingredients of Japanese Miso Soup Recipe
How to Make Japanese Miso Soup
Step 1: Take a pan, add both oil (oil and sesame oil) also add radish, carrot and potato slices.
Step 2: Saute for 3 minutes. Add 5 cups warm vegetable stock and salt to taste.
Step 3: Simmer until vegetables are cooked.
Step 4: Blend miso pastes in 1 cup vegetable stock and adds to the soup. Also, mix in the tofu pieces.
Step 5: Continue to simmer. Now, mix in soya sauce
Step 6: Before serving, add sliced leek or spring onion and serve the soup hot.
Add to Favourites