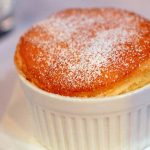 Yield: 2
Prep Time: 20 minutes
Cook Time: 30 minutes
Print
Nutrition facts

(per portion)
Nutrition facts

(per portion)
Calories: 441 kcal
Carbohydrate Content: 40.61 g
Cholesterol Content: 311 mg
Fat Content: 23.74 g
Fiber Content: 0.6 g
Protein Content: 15.83 g
Saturated Fat Content: 12.842 g
Serving Size: 1
Sodium Content: 279 mg
Sugar Content: 29.71 g
Trans Fat Content: 0.052 g
Hot Orange Soufflé
Orange souffle is a classic French recipe. This traditional souffle flavored with orange, castor sugar and butter. Orange mixed with castor sugar and butter gives tangy flavor to the souffle. Adding egg whites to this souffle make it more fluffy and delicious. Serve this orange souffle dessert after a delicious main meal.
Ingredients of Hot Orange Soufflé Recipe
How to Make Hot Orange Soufflé
Step 1: Preheat the oven to 250°C for 5 minutes
Step 2: Melt the butter in a saucepan, stir in the flour and cook for 1-2 minute.
Step 3: Gradually add milk, stirring continuously and let it boil and cook for 1 minute then remove it from heat.
Step 4: Grate orange rind fine and extract juice of an orange. Stir in orange juice and castor sugar into above sauce. Allow the mixture to cool slightly and beat in the egg yolks.
Step 5: Whisk egg whites until stiff and then fold them gently into the egg yolk mixture.
Step 6: spoon the mixture into a greased ovenproof dish and bake at approx. 170°C for 20-25 minutes.
Step 7: Serve hot decorated with grated orange rind.
This Recipe is Adopted from Sun flames cookery book
Add to Favourites