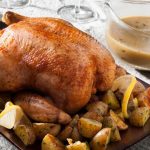 Yield: 3
Prep Time: 15 minutes
Cook Time: 30 minutes
Print
Nutrition facts

(per portion)
Nutrition facts

(per portion)
Calories: 1180 kcal
Carbohydrate Content: 39.94 g
Cholesterol Content: 446 mg
Fat Content: 77.68 g
Fiber Content: 2.1 g
Protein Content: 78.38 g
Saturated Fat Content: 20.859 g
Serving Size: 3
Sodium Content: 3916 mg
Sugar Content: 21.99 g
Trans Fat Content: 0.386 g
Honey Lemon Chicken
Honey lemon chicken is the most amazing and super delicious chicken dish. This quick and easy recipe made with very few and handy ingredients and anyone can make this recipe even man can cook it. This delicious and mouthwatering chicken dish can prepare in minutes, and every bite of this chicken is as delicious as fried or even more delicious. Enjoy this honey lemon chicken with plain rice!
Ingredients of Honey Lemon Chicken Recipe
How to Make Honey Lemon Chicken
Step 1: In a small bowl, whisk together the tomato paste, lemon juice, water, honey and ½ teaspoon of salt.
Step 2: Now, take chicken pieces and season it with salt and pepper powder then dust with the flour.
Step 3: Heat a pan over MEDIUM heat until hot then add olive oil and garlic. When the oil and garlic start swirling around the pan add the chicken in a single layer and fry undisturbed until browned on one side. It will take around five minutes.
Step 4: Flip the chicken over and fry another side until the chicken almost cooked through.
Step 5: Remove the pan from the heat and use the paper towel to sop up as much oil as possible.
Step 6: Again Heat the same pan and add the prepared sauce of tomato. Cook this sauce until there is almost no liquid remaining. Then add the chicken and stir well till the chicken is coated well with the thick layer of glossy red sauce.
Add to Favourites