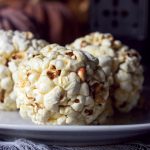 Yield: 8
Prep Time: 10 minutes
Cook Time: 60 minutes
Print
Nutrition facts

(per portion)
Nutrition facts

(per portion)
Calories: 4002 kcal
Carbohydrate Content: 353.49 g
Cholesterol Content: 130 mg
Fat Content: 272.43 g
Fiber Content: 27 g
Protein Content: 70.91 g
Saturated Fat Content: 86.167 g
Serving Size: 8
Sodium Content: 1150 mg
Sugar Content: 285.75 g
Trans Fat Content: 2.052 g
Halloween Popcorn Treats
Halloween popcorn treats is a delicious recipe to worth try during the Halloween party. It contains ingredients like chocolate chip cookies, vanilla extracts, butter and more which is loved by everyone and they enjoy it a lot. This recipe is easy to make and yummy. Let's see how to make popcorn treats for the Halloween.
Ingredients of Halloween Popcorn Treats Recipe
How to Make Halloween Popcorn Treats
Step 1: Take a large mixing bowl and spray the inside of it with vegetable cooking spray and lightly spray the baking sheet.
Step 2: Take a heavy bottomed pan and heat the oil and popcorn in it over MEDIUM-HIGH heat.
Step 3: Now, cover the pan and properly shake it. Now, cook the popcorn kernels for 3-4 minutes. Add the popcorn into the prepared bowl.
Step 4: In a saucepan, heat the butter and add the vanilla extract and marshmallows to it. Stir them continuously till the marshmallows completely melted, and the mixture becomes smooth.
Step 5: Pour the melted marshmallows over the popcorn.
Step 6: Spread the marshmallows mixture with a spatula until it completely coats the popcorn.
Step 7: Now, spread the mixture over the prepared baking sheet and sprinkle with the chocolate bar pieces, cookies, chocolate candies, and almonds.
Step 8: Now, gently press the popcorn toppings with the help of the spatula.
Step 9: Keep the mixture aside for 1 hour to completely dry.
Step 10: Break the mixture into small pieces and store them into s plastic container.
Add to Favourites